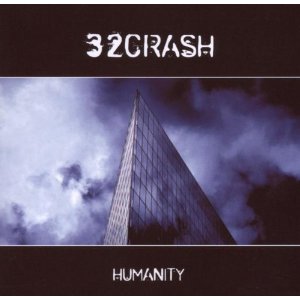 Reads: 4450 times
85%
Artist:
Galleries:
CDs catalogue:
Humanity is a debut of Belgian trio Len Lemeire (Implant) Jan D'Hooghe (Vive La Fête and Implant) and Jean-Luc De Meyer (Front 242). Yes, the latter man is one of the pillars of a legendary Front 242 group, and he has also on his account several successful affairs. In fact, from 1993 until 2003, Front 242 has not issued any studio material. During that period, there were released two (Live Code from1994, Re: boot from 1998) very good live albums and a pair of rechauffed chops (Mut@ge.Mix @ ge, Headhunter, 2000), but the EBM genre fans were not fed with new products from the factory number 242nd. In the early '90s the group received a slight breathlessness, its members had minor problems with the direction of further development and a coherent vision of the music played by themselves. During the aforementioned drought in music (1993-2003) artists pursued their own visions and it should be noted that Jean-Luc De Meyer most evidently realized his ideas in the following projects: Cyber-Tec/C-Tec and Cobalt 60. Although gentlemen De Meyer, Richard 23, Daniel B. and Patrick Codenys were operating on their own, they together fell at concerts sensational and showed, that the Headhunter is not aging, and a debut of the band in the new millennium is what the faithful fans waited eagerly for. Finally, after almost 10 years we got 'Pulse' album, which however brought some disappointment. It is not how I imagined Front 242 in the XXI century. It was music far away from the raw EBM, with no idea, just boring, remote from what we were accustomed by Belgians in the 80's. All brawler times of lyrics shouted in tact of raw rhythms have become a thing of the past, and in their place appeared a psychedelic sounds and a lot of unnecessary frills. What worse, it appears that Front 242 decided to make records at least once in every ten years, because since 2003 till now (AD 2011) gentlemen are only touring and create the music separately.
In 2006, Jean-Luc, along with his colleagues from the Implant formed a group 32Crash and in 2007 on ALFA MATRIX label appeared their first plate with a new material. The CD contains 4 new songs, their four mixes, and two fairly experimental sounds that make a completion. However, about them in a moment. A whole actually refers well to the year 1993 when the Front 242 regaled us with good material from 'Up Evil' and 'Off' albums. Strong, clear De Meyer vocals and twisted, but ear-catching sounds combine these achievements despite the distinction of nearly fifteen years.
All CD is a kind of a warning – a likely vision of Earth in the year 2107 (2007 +100) predicted by the band based on the present state of technical development. Twisted, but what is not done for marketing purposes, moreover, to that music cyber punk and post-apocalyptic lyrics fit perfectly.
Humanity opens song with the same title. Quiet, it has a distinct vocal with plain percussion, that by no means is a hymn to humanity. It is a concern for the future of species, planet, people are just a disease, plague, pestilence striving for self-destruction and annihilation of the environment. I like it - dark catastrophic and quite real, moreover these vocals... 'Merlin's Gun'-much faster and musically richer tells the story of a weapon that shoots black holes (!!!) used by people in the fight with an alien civilization. Next we have 'Lone In Ranger' song about hunting for people in the Inter galactic space, which could easily be put on the 'Tyranny> For You <' only because of the great intro. The last of the new tracks' Ismodia ' is musically much associated with 'Up Evil' and the title is the name of the drug for people offering them short-term mental stability. Unfortunately, according to creators it will not be available until 2107 year...
A further 4 mixes well complement the new songs, and among the makers is Patrick Conenys for instance. It should be highlighted the mix of 'Lone In Ranger' (by Sebastian Komor of Icon of Coil), which can be successfully played in clubs.
The last two tracks are a more experimental bonus. Instrumental 'Fibers carbon and germs' is a music that fits more as a background to the game - dynamic, good for FPP shooters. Last (unusual) track 'ioR eL ' was based on a vocal track played backwards! Yes, the title should also be read backwards, and 'Le Roi' means ' The King '. Surrealism in its purest form! Revelation and it even has a nice melody!
To sum up - the album is a must for any EBM' fan - in my opinion it is how Front 242 should sound in the XXI century!
Tracklist:

01. Humanity
02. Merlin's Gun
03. Lone Ranger
04. Isomodia
05. Merlin's Gun (Patrick Codenys Mix)
06. Lone Ranger (Sebastian R Komor Mix)
07. Humanity (Dany Rodriguez Mix)
08. Isomodia (Side Effect Mix)
09. Fibers, Carbon And Germs
10. ioR eL
Other articles:
Newest comments: