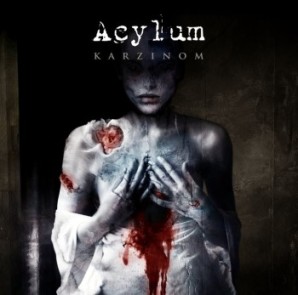 Reads: 3825 times
100%
Artist:
CDs catalogue:
Every one of you - BEWARE! Here comes The Armageddon for you and your speakers!
It's another time, when Acylum's visions turns the world upside down.
This fantastic duo made an album full of edgy sounds and shrill tunes. It's unimaginable for me how they did it; again! Every track is so…proper and on a right place. It's astonishing.
From a first few bits we know what is going to happen. I didn't mean to define "Karzinom" as predictable. It's more like "I'm sure, it's going to be splendid".
Their directness of expression is ruthless - as always. This is what they do the best - being merciless for the listener. This album is strong compound of mock serenity, pure rage, sadistic inclinations and (surprisingly!) moments of sad hopelessness. It tells a story, which is a bit unpleasant, naughty and definitely not for everyone.
Too excessive expatiate about this masterpiece would be inappropriate, because album defends itself perfectly. There is no need to persuade about its values. However, I simply must write a few little words about The Best Ones.
First is "Shoot em up" - my personal favorite. I think, it's the strongest part of "Karzinom".
"Angel" is the "depressing one". The most noticeable thing in this track is, how deftly Acylum can play with emotions.
Another perfect song, with a significant title is "Freeze". Nadine Engel is very convincing here. To the accompaniment of atmospheric violins, she brings truly sepulchral vibes.
Next will be "King Acylum". When I heard this song for the first time, I lost my breath. I have only one big, fat word to describe it - obscene. This tension here, is just hypnotizing.
"Spit on your grave" is another strong element of "Karzinom". I adore its harsh and rough sounds. Perfection.
This five tracks are true gems. But "Karzinom" only as a totality, gives us a full picture of Acylum's outstanding sense and music intelligence. I don't even know if something like music intelligence exist… But! If it's not - they've just created it!
Tracklist:
01. Haus am See
02. Shoot em up
03. Sweat Cunt
04. Angel
05. Question
06. Freeze
07. Deathzone
08. Flatliners
09. Deutsch
10. King Acylum
11. Silence
12. Spit on your grave
13. Freeze (HAUSHETAERE version)
14. Question (AMGOD remix)
15. Silence (REAXION GUERILLA remix)
16. In Memory
Newest comments: