Ad Inferna - Ultimum Omnium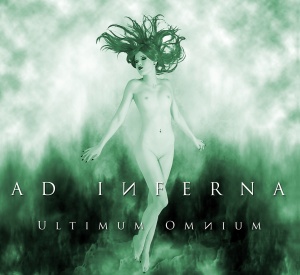 Reads: 3311 times
80%
Artist:
CDs catalogue:
French project Ad Inferna is one of those few which are better not to be read about. Music diagnosis and labels, that the band has collected on their account, create an aura of exaggerated originality around them, often misleading the uninformed listener. In this case the excess of knowledge is harmful and a well-read listener may have expectations from the band that their material might never meet. Reading this review of the most recent release is also pointless if it would be the first contact with Ad Inferna. To all still unaware - read at your own risk.
It's worth to note right from the start that
Ultimum Omnium
album is narrative, to a large extent.
Shed no tears
strikes immediately after the moody, opening
Opus Dei
- and almost immediately confirms the belief that we have a really fresh, experimental material. Lyrical background amplified with juicy, gradually swelling beats - that's a recipe for a successful, tension building introduction. The band attempts to build following tracks around this principle, flavouring them, at their discretion, with known and proven motifs. The band didn't give up the French vocals - to the dismay of some, and the delight of others.
All shall die
, however, seems to be the proof that the Parisian r can ruin even the best-programmed track. The song, however, brings vitality and a short broken beats, so that the album reaches desirable pace. Reflective
Madone
is the next narrative gem, fitting well contemporary trends by using movie samples. It passes smoothly into the slowly resounding
Revelations
- weak and monotonous track. Painfully simple, quickly recorded and without ideas. It revolves around one theme repeated ad nauseam, making sleepy. It gets better with
Das Ende
- where the French narrative can be forgotten thanks to the phenomenal leitmotif that penetrates deeply, contrasting perfectly with strong vocals. There is nearly nothing more to criticize in the remaining songs. Particularly the ingenious, irregular
Ad Inferna
, crammed with everything that
Ultimum Omnium
has to offer. The track deliberately loses the rhythm, it's polyphonic, and somewhere in the midst of the philosophical contents fading being appears. All this is carried on an electronic wave, muffled theatrically, and then aroused suddenly. The forge of spontaneity at its best. As for the monumental, closing
Infitinite si mal
, it strikes with mostly toned down, not overdone arrangement. Deep keys, gentle and melancholic character - and all this in the style of early 70s German electronic music, in which even silence echoed in a unique way.
There's no doubt that Ad Inferna changes, matures. It's difficult, however, to determine the direction in which the French band is going. The time will probably verify any possible dissatisfactions. At this point one can certainly say that we are dealing with an open project. Ad Inferna amplifies sounds, slows down, turns towards grim reflections on reality.
Ultimum Omnium
is a compilation of band's previous musical experience - proof of enormous work on technique, but also on themselves. The band prepares a solid foundation for further work, patiently placing pillars of artistic authenticity and independence. A must for those who know the power of
Trance:N: Dance
. For those who didn't have the opportunity to hear Ad Inferna (and unwisely began by reading about them) - a perfect start in musical acquaintance.
Tracklist:
01. Opus Dei
02. Shed No Tears
03. Hell Within
04. All Shall Die
05. Madone
06. Revelations 17
07. Extinction
08. Das Ende
09. Litanie de Sang
10. Ad Inferna
11. Inifinite Si Mal
Other articles:
Newest comments: