Ad Ombra - Magna Charta Illusorum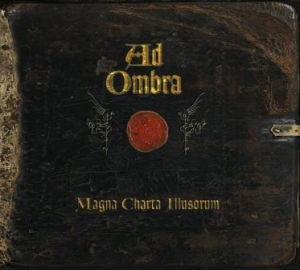 Reads: 3961 times
85%
Artist:
Galleries:
CDs catalogue:
Last topics on forum:
Ad Ombra (Romania) had their debut in 2008 releasing 'Rites of Genesis (equinox tremendum)'. Encouraged with the band's description which brought to my mind dark and dignified sounds stemming from horrors, I've decided to familiarize myself with the output of George D. Stanciulescu and his project. With great interest I've reached for their second release entitled 'Magna Charta Illusorum'. To put it simply, it is pure madness, in a beautiful cover. It was the wrapper that drew my attention with its dark and classical binding, resembling old medieval books.
At the beginning I felt like I got into the swing of the world of complexity, beautiful vocals, screams and unidentified sounds, in space. They introduce unrepeatable mood of sorrow and mystery, which influences our imagination and makes us totally other-worldly. The amazing thing on this album is permeating neoclassical and industrial elements with those typically dark ambient ones. All procedures of merging the musical genres are much into my liking, however, I think that at some moments there is a sense of surfeit of the motives. A small minus for the fact that sometimes one can get lost in here, in this creative chaos.
The whole thing brings to mind a drama full of sophisticated, orchestral moments. There are noticeable influences of such bands as Stoa, Chaostar, Devil Doll or Arcana. I encourage you to listen to it, particularly those people who look for offbeat combinations and a bit of romanticism mixed with the modernity.
Tracklist:

01. Templum Stygialis
02. Disquiet Opera
03. M'illumino Di Sangue
04.... A Coeur Posthume
05. Uranogeea
06. Mimes Of The Occult
07. Desdichado Tango
08. Epiphany
09. Heritages De L'Angoisse
10. Ferlyse
11. To End
12. Worldiscence
Other articles:
Newest comments: