Artist: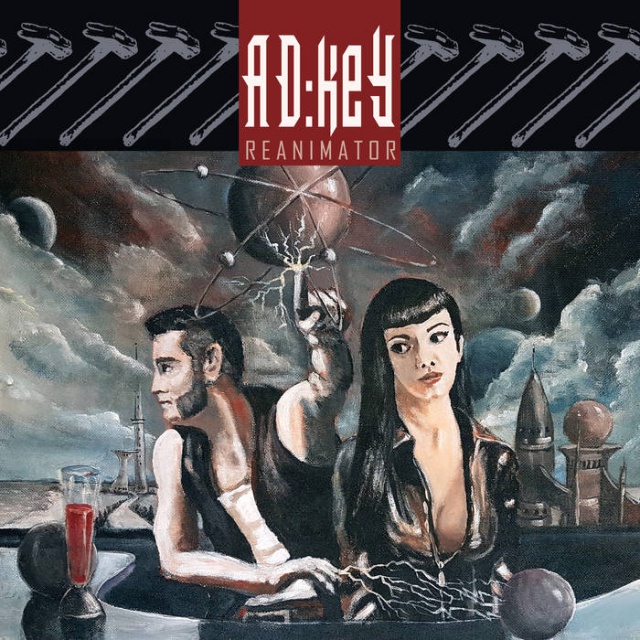 "Ad:keY" is back on planet Earth for their 5th studio assault. Their mission on this new 13-track album is perfectly summarized in its one-word title "Reanimator": The Berlin-based AD:keY duo will reanimate our bodies and brains, blowing away the dust from our daily routines, insufflating a breath of positive vibes into our greatest hopes and dreams, and inviting all of us with a clear critical position to act and do something in life for the future of humanity and the universe… "We live here, we live now, we celebrate it" being their new motto!

Musically, the duo stays faithful to its characteristic style while continuing widening its sonic spectrum and expanding its production skills and songwriting quality level. AD:keY stands for hi-energy positive EBM work made of stomping beats, muscled bass lines, addictive melodic electro sequences and clear powerful (mostly German) vocals. And the vocal duality of Andrea's shouting leads and Rene's clear backing vox which made AD:KEY stand out as unique and original on the "old school Electronic Body Music" scene, reaches here an amazing symbiosis giving all its force and strength to this stunning album.

"Reanimator" is a non-stop EBM pumping machine
Available from 3 November 2017 by Alfa Matrix.
Tracklist:
1.Mein Weg
2.Kurz und schmerzlos
3.Ich reanimiere dich
4.Shameless
5.Hater
6.Never enough
7.Von Neumann-Maschine
8.Du bewegst dich nicht
9.Lire entre les Lignes
10.Wie du
11.Eskalation
12.Science Fiction-Welt (feat. Robert Meyer)
13.Reanimator
14.Never enough (remix by Stockholm Wrecking Crew)
15.Ich reanimiere dich (AD:keY clubmix)
16.Ich reanimiere dich (remix by Orange Sector)
17.Du bewegst dich nicht (remix by Zweite Jugend)
18.Eskalation (remix by Agrezzior)
19.Science Fiction-Welt (AD:keY otherland-version)
20.Du bewegst dich nicht (noisemix by Pseudokrupp Project)
21.Shameless (Amnistia modification)
22.Ich reanimiere dich (remix by The Psychic Force)
23.Wie du (remix by Decoded Feedback)
24.Lire entre les Lignes (remix by Trilogy)
25.Mein Weg (remix by RaHen of Robotiko Rejekto)
Author:
hellium
Source: Alfa Matrix / 2017-11-15 / News
Newest comments: