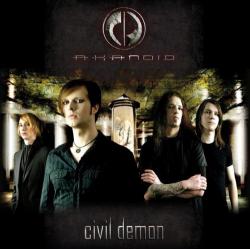 Reads: 4019 times
70%
Artist:
CDs catalogue:
Akanoid is a nice alternative German quartet, that had an opportunity to present themselves to the Polish audience at Progresja club in Warsaw at last year Independent Festival. It's clearly visible, that while creating the new album, Akanoid drew inspiration from a number of sources. 'Civil Demon' has its own style and character. I had an impression that the band climbed the career ladder one step higher, it became more determined and expressive. The music achievements of these four young musicians are really considerable, quite a lot of leeway, ear-friendly electro-pop combined with industrial rock. Thanks to melodious dynamic playing Akanoid has a tendency to engrave into listener's memory and consciousness. Vocal – great and devoid of ornaments – encourages collective singing. But singing is not the only thing 'Civil Demon' encourages to. Rhythmical movement of the toe in a shoe is simply unavoidable. You can also do a few half-turns or simply cuddle up to your dance floor partner.
My conclusion is this – Civil Demon is not as bad as the devil painteth.
You won't reach the gates of infernal paradise with this record... but certainly you will reach a dark party.
Tracklist:
01. Unbreak Me
02. 100 Burning Guitars
03. Jump Into The Hive
04. All The Noise
05. Climax
06. Secret World
07. Headless
08. Nexxus
09. The Nihilist
10. Subtitle
11. Pain
12. Strange Obsession
13. Hand Over Head
14. ++%
Other articles:
Newest comments: