Alice in Videoland - A Million Thoughts And They're All About You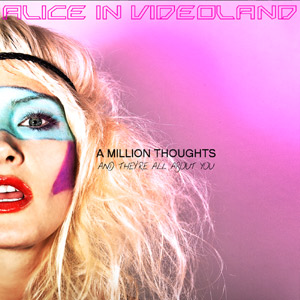 Reads: 3203 times
85%
Artist:
Galleries:
CDs catalogue:
Last topics on forum:
I am truly surprised, obviously in a positive way! I had not had an earlier opportunity to familiarize myself with the work of Alice in Videoland and, frankly speaking, I was not entirely sure what to expect of them. The name of the band really intrigued me as well as the fact that, among their other musical influences, the group mentioned The Birthday Massacre, which is to my liking. Hence, my first impression was highly shocking, when I heard popish sounds, with the guitars hidden behind electronic background. However, upon further immersing in the album, it turned out that it undoubtedly makes a great record.
The album comprises 11 tracks, the last two of them being a slightly different version of the original track and a remix. We are welcomed by an exceptionally go-ahead and most probably my personal favorite "Take Me With You". A very catchy chorus stays in your memory just after one listen. Then, an equally interesting "Little Bird", whose beginning brings to mind some of Madonna's records and is quickly followed by an ear-pleasing chorus. "Spaceship", which is the next in line, is also a good track. And this is how it goes throughout the release, which is immensly equal in terms of the overall sound. It is really pleasant to listen to the whole record, which actually is not composed of a single song, which would be conspicuous for being worse that the others in any way. At the end, we have two tracks, which I have already mentioned at the beginning of my review, that is "Spaceship", in a bit different version than the album one, and the remix of "Little Bird", which is by no means a bad song, yet I prefer the original version better. In all probability, the record may not turn out to be to everyone's taste as at some points it sounds rather tacky (which is certainly aimed at by the style of the band). Nonetheless, I go for it! Extraordinarily pleasant beats, a genial-sounding voice of Toril Lindqvist and truly catchy melodies constitute a quaint musical change from harsh electro and industrial, a sort of need of a distance or some kind of other particular feeling, name it 'being open' towards other genres. It is a pity the album does not last long - the more one listens to it, the more he/she wants - unluckily, the guilty pleasure ends after approximately 40 minutes.
While encapsulating, I can honestly recommend this release to the people who long for a bit of a variety, a change from heavy electronic sounds, as well as to those who are fond of the music represented by the Swedes from Alice in Videoland. Theirs is not an outstandingly original way of playing, but it is not all about this. It has been a long while since any album managed to lift my spirit up in such an efficient way and it appears to me as a perfect compilation of tunes for long and wintry evenings.
Tracklist:

01. Take Me With You
02. Little Bird
03. Spaceship
04. Something New
05. In A Band
06. No Matter
07. Bender
08. Last Lover
09. Buffalo Stance
10. Spaceship (The At Least Somewhat Censored Version)
11. Little Bird (100 Volt Remix)
Other articles:
Newest comments: