Alien Vampires - Revitalizer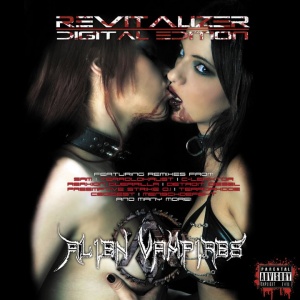 Reads: 2781 times
40%
Artist:
Galleries:
CDs catalogue:
Alien Vampires is an British-Italian project, created in 1998 on the initiative of Nysrok Interalien, who started his music career in Bloodline and Abory. At present Alien Vampiries' line-up is Nysrok and Nightstalker, who joined in 2007. Alien Vampires is directed not only at black metal fans, but also at dark electro, industrial, harsh ebm and aggrotech enthusiasts. Eventually they can be classified as industrial ebm trance with black metal elements.
'Revitalizer' is a mix of compositions included on the album 'Harshlizer' released in 2010. The music journey starts with black metal riffs in 'Evil bloody music (Twilight freakshows's Black Plague Remix)', in which there are practically no electronic sounds.
Long-awaited industrial sounds appear in first seconds of the second composition, that is 'No Way Back (Spilled Blood Remix by C-Lekktor)'.
And there we go again – next compositions are the already mentioned ones but mixed in a different way, such as 'Lies (Reaxion guerilla Remix)', again 'Way Back (Preemptive strike 0.1 Remix)' – they seem boring and shallow to me, created without a particular concept. I had this impression until 'She's on drugs (more than me)' mixed by SAM Horrortrip.
This is the only original composition which doesn't repeat itself on the release, I dare say it's the real gem of this album. Shortly after 'incarnations' of the already known compositions appear, but this time mixed by someone else (e.g. 'No way back' mixed successively by C-Lekktor, Preeptive strike 0.1, Menschdefekt; 'Far away' by Terrolokaust, Arsch Doll and Menchdefekt).
I consider 'Far away' mixed by Terrolokaust to be the best remixed composition, it's definitely more distinct than the Arsch Doll version.
To conclude, the album constitutes another attempt to present compositions which appeared on 'Harshlizer'. The only song worth listening to and adding to favorites is 'She's on drugs (more than me) remixed by SAM Horrortrip.
The release is rather boring, I don't recommend to listen to the album as a whole many times, because you will get bored of it soon.
Track list:


01. Evil Bloody Music (THE TWILIGHT FREAKSHOW's Black Plague Remix)
02. No Way Back (Spilled Blood Remix by C-LEKKTOR)
03. Far Away (TERROLOKAUST Remix)
04. Lies (REAXION GUERRILLA Remix)
05. No Way Back (PREEMPTIVE STRIKE 0.1 Remix)
06. Far Away (I Kick Ass For The Lord Remix by ARSCH DOLLS)
07. She's On Drugs (SAM Horrortrip Remix)
08. Evil Bloody Music (DETROIT DIESEL Remix)
09. Lies (TERRORKODE Remix)
10. Harshlizer (Ruinizer Remix by CEDIGEST)
11. No Way Back (Dismantled by MENSCHDEFEKT).
12. Far Away (MORDACIOUS Remix)
13. Lies (EDEN SYNTHETIC CORPS Remix)
14. Harshlizer (AD INFERNA Remix)
15. Far Away (XPERIMENT Remix)
Other articles:
Newest comments: