Alter Der Ruine - I Will Remember It All Differently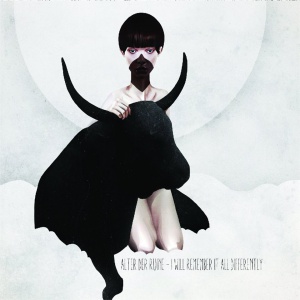 Reads: 2156 times
85%
Artist:
Galleries:
CDs catalogue:
Since 2005 Americans from Alter Der Ruine came through an impressive evolutionary path, when it comes to sound. Beginning from the very first releases kept in industrial and noise genre, they have been constantly looking for new ways. The group's fifth studio album and the first after another reunion, should be classified roughly into the drawer with electro or synth-pop label. But why play in the labels, since it is the most accessible up to date band's album that draws from such styles as alternative rock, rhythmic noise or contemporary club music?
Describing the music on "I Will Remember It All Differently", you can refer to The Knife, TRUST, experimental sounds from Aniaetleprogrammeur. Personally, it reminds me The Smashing Pumpkins (on Prozac) - it is not only about track's construction, but also about the manner of singing. This similarity can be well heard in "Will We Tear You Apart", providing a good dose of endorphins to a mix of pulsating bass, rock motorics and guitar riffs, based mainly on synthetic layers and loops.
Though decidedly softer, even if sometimes emotionally shaky, high-pitched voice of Michael Treveloni often sounds as Billy Corgan's vocal, and provides light even to darker compositions, and above all fits well with songs that have as a basis brightness and lightness - like opening album "Lights". A task that Alter Der Ruine filled remarkably well, is to create a wide musical space. In the most ephemeral composition on the album there is place for full-fledged synth-pop, subtle keyboards, but even noise elements that do not break harmony filling the tracks, but, surprisingly, even emphasize it. A similar role plays noise in soothing "Stars", in which with time note the ordering role of percussion and keyboards.
"Tiny Wars and Quiet Storms" is an example of more robust electro sounds, which are led by addictive beat, electric guitar in a wide spectrum of sounds and vocal that adds to all this a big dose of lightness. If there is a chance, to listen to this composition only once in a row and move to the next one, I still miss it. "Gift Horse" could be considered as a brother of infamous "Lights" - not so ethereal, a little harder, darker, causing a slight shudder of depravity. But in the sound it is still spacious the same, revealing the brighter side in bass' notes. "Quiet Crimes" evokes echoes of the 80's, but satisfyingly mixes them with experimental sound and overdriven guitar. Rock rules in "Tundra", where in first place are the drums and allowing itself a lot more than before guitar, mixed in proper proportions with industrial dirt, delicate keyboards and airy synthesizers.
In this tracklist surprises restless "Poltergeist" definitely good for a party in rave style, while drawing fully from modern electronic dance scene. Weight and speed this time will not be alleviated by singing, will not calm the keyboards (even if they attempt); instead broken beat will add the hell flavor. Already blazing fire does not die in ending material "Leviathan" - expanded, magnetic, dark in appropriate extent, to evoke chills, electro composition, in which appear the guitar solos.
The weakest point of the album seems to be "Horizon Slide", an average example of modern dance alternative which is expressionless.
Americans present rich sound, soothing, not boring, full of play with convention, extraordinary, what else I can say: they present the best release and it will be hard to break it next time. If "I Will Remember It All Differently" was released a decade earlier, Alter Der Ruine will right away become gods of alternative. Nowadays it is difficult to stand out even with a similar proposal from the flood of other artists and so far it should be enough to call them heroes - with a fair chance of joining an electronic Olympus in the future.
Tracklist:
01. Lights
02. Tiny Wars and Quiet Storms
03. Horizon Slide
04. Stars
05. Gift Horse
06. Will We Tear You Apart
07. Quiet Crimes
08. Tundra
09. Poltergeist
10. Leviathan
Other articles:
Newest comments: