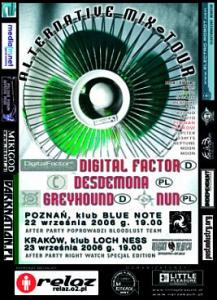 Reads: 14632 times
Artist:
Galleries:
Last topics on forum:
Such a small festival, but the variety of music it showcased was simply stunning. NUN kicked off that night - the Polish synthpop duo gave a professional and good, but a bit dull appearance. The crowd was very pleased with the biggest hits, like "Stop" and "I'm Here For You" (performed also in a remix by Minerve), yet the remainder made people yawn.
The powernoise powerhouse called Grey Hound climbed onto the stage as the second act of the night. This performance was clearly most enjoyed by the singer. Even though at first the music was interesting, by the end of the show I was feeling as if someone drilled my brain.
Desdemona... really not my cup of tea, and the performance wasn't breathtaking, too. Yet the crowd was roaring wild, with two female fans exhibiting their chests with the name "Krycha" written upon their bikini lines, suggesting that some people wanted to see them (or at least one of the band's members ;)).
Finally, that what we have been waiting for the whole evening - Digital Factor. A very good performance, mainly with material from the last LP called "One More Piece", with songs like "Money" and "Lions". The trio went wild on the stage, carrying the crowds with them. They gave their best and shall be praised for that, for it was them who saved the night in my memories.
Other articles:
Newest comments: