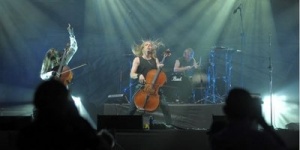 Reads: 2808 times
Galleries:
This year an extraordinary and original band, beloved by thousands of fans, took part in Jarocin Festival. Apocalyptica, finnish giants of symphonic metal, visited polish punk festival to give over one-hour long concert. What is left after them is an unforgettable experience!
A lot of people came just for this concert, so it was hard to get close to stage. But if someone managed to do this – they didn't move from their places at all. Not until the end of the concert I found how many people were there – when I saw crowds of people coming out to festival square. The crowd that seemed endless.
Such hits as "End of me", "I'm not Jesus" or "Nothing else matters" could not be missing among the compositions which were played. The audience enjoyed the last one especially, singing the chorus. Well, it's not surprising since it's a cover of the giants of metal.
Eicca together with Perttu and Paavo encouraged the audience to have maximum of fun. Their questions "Are you there?" were immediately answered by screams, shouts and applause of fans. Guys did everything they could to create a real show – they ran with cellos, jumped, lay down on the stage and encouraged to applaud. Each of their moves was accompanied by great enthusiasm of the audience! Though, it must be said that the loudest scream was heard when Perttu threw off his shirt presenting to the female part of the audience not only his play but also his body.
The concert, despite being long, ended very quickly. Fortunately, we didn't have to ask for encore many times. When the audience chanted "one more" and lights were turned on again it was obvious that this is not the end. All the more Apocalyptica left two greatest hits to end the concert with – "I don't care" and "Hall of the Mountain King." What happened during these two songs is indescribable... It can only be summed up by the shouts which were heard among the audience – "It is better than sex!".
When all of the lights were off and it became clear that this is the end some people rushed to the festival gate to wait there hopefully for their favourites. Unfortunately, Apocalyptica didn't want to come out to their fans making some excuse of having another concert. However, when they passed by the waiting fans who shyly tried to look into the car, one thing could be stated – they were satisfied! Smiling they waved disconsolate fans off and they left...
Those who weren't there and didn't see their performance should regret. Because Jarocin is not only a capital of punk but, most of all, of good music!
Other articles:
Newest comments: