Apocalyptica and others at Czyżynalia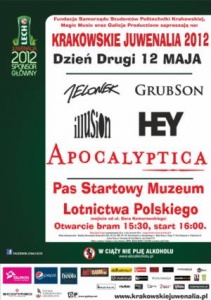 Reads: 3671 times
Galleries:
Last topics on forum:
The crowd loves you. The crowd will warm you up. The crowd will carry you.
So this would be the short summary of 12.05.2012 at
Krakowskie Juwenalia - Czyżynalia 2012
. Astonishing how the temperature changes when you leave the concert crowd and go to an open space.
Anyway, let's start the story from the beginning.
Jelonek
At first I didn't really bother to make it for the whole concert but when I got to the Polish Aviation Museum Runway I realized it was a mistake. Very lively music played by the band has enchanted the crowd. Hard rock songs were softened and enriched by the violin and it created an appealing outcome that made me want to look more into the project. And that's what I recommend to all of you in your free time.
Illusion
I didn't know what to expect. Really. It turned out rather fine.
The band plays a heavier rock with catchy songs. And even though I'm not very fond of their lyrics I must admit that the music is fairly good. The crowd responded extremely lively to the performance with huge moshpits and sang out loud words that proved the presence of numerous fans.
Even though it is not really my kind of music I had fun. Probably it was the energy of all the people around that did the magic. And it looked like the band itself was a bit positively surprised by the response they received from the crowd.
Hey
They are one of the most popular Polish rock bands but none of their songs ever encouraged me to listen to some more. And it's not that the music is bad, it's just that it made me feel a bit depressed at times. However, the concert was different. Still with lots of ambience and rather calm but there were some lively songs I never though were theirs. There was particularly one that I liked the most:
"Kto tam? Kto jest w środku?"
. Upbeat rhythm and distinct drums harmonizing with catchy chorus were complemented by finishing synthesizers. A very appealing composition.
Apocalyptica
Long they had us wait. Long enough for the crowd to start singing along the interval song
"Hallelujah"
when the stage lights were finally off. And than the intro started and Fins came out.
Starting with two songs from the latest album
"On the Rooftop with Quasimodo"
and
"2010"
they sent the crowd crazy with gradually rising pace of music. Right after greeting the audience one of my absolute favorites followed –
"Grace"
. But what made the fans really frantic was the 'classic' cover of
Metallica's
"Master of Puppets"
. The crowd, of course, filled the music with original lyrics and Eicca occasionally joined in as well.
Next came two songs with vocals by Tipe Johnson –
"End of Me"
and
"I'm Not Jesus"
. I think since the
"7th Symphony"
tour
Apocalyptica
has been taking a singer for their concerts and I still haven't quite made up my mind if I'm really for it or not. There is a great variety of voices they have on albums and the live singer does not fit to them all that perfectly. Although it's good to have someone sing the right lyrics to lead the forgetful fans.
Following song was a great surprise for me – as Eicca said they haven't played
"Somewhere Around Nothing"
for quite a while and it was nice to hear it once again. It left me feeling sentimental and the mood continued on as next thing was Perttu's solo on a dark stage with only one white light pointed at him. The band continued on a calm and romantic atmosphere with
"Nothing Else Matters"
. And absolute must on every concert and always a warmly welcomed piece of music.
Apocalyptica
left the stage after that leaving the audience in a state of dreamy silence.
Coming back Perttu introduced all the band members one by one and the Fins gave us a waking kick with
"Last Hope"
, shortly followed by powerful cover of
Sepultura's
"Refuse/Resist"
. It's one of those songs where you get the impression that the guys will basically saw the cellos open with their bows.
"Life Burns!"
was another nice surprise although the singer's voice, in my opining, was so far from original vocalist, Lauri Ylönen, that it was not as pleasant to listen.
Afterwards another dose of heavier cover songs followed –
Metallica's
"Seek and Destroy"
and
Seplutura's
"Inquisition Symphony"
. With that the band left the stage for the second time.
For the encore they came back with a big bang playing
"At the Gates of Manala"
, an opening song from their latest album. The enormous variety of sounds and rhythms included in this song vibrated through the air with an extreme power. And that almost made the next song,
"I Don't Care"
, pass unnoticed.
Right after the last sounds died the singer said his goodbyes, however, the band stayed and Eicca announced that they could not leave without playing this one last song –
"Hall of the Mountain King"
. You could probably call it a classic farewell of Apocalyptica, as most (if not all) concerts are ended with it and yet I can never get enough of this particular piece of music.
To end I'll quote what at one point the singer Tipe Johnson said and what I call a good remark: "We've heard yesterday you had sunny weather, 26-27... so what the fuck happened today?" And believe me, no cold or rainy weather can spoil the mood on a day like that!
Setlist:
1. On the Rooftop with Quasimodo
2. 2010
3. Grace
4. Master of Puppets
5. End of Me
6. I'm Not Jesus
7. Somewhere Around Nothing
7. Perttu's solo
9. Nothing Else Matters
10. Last Hope
11. Refuse/Resist
12. Life Burns!
13. Seek & Destroy
14. Inquisition Symphony
15. At the Gates of Manala
16. I Don't Care
17. Hall of the Mountain King
Other articles:
Newest comments: