Architect, Destroid and support
Artist:

Galleries:

Last topics on forum:

Archive: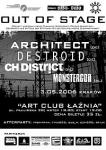 In just a few days, 4 great groups are going to play a concert at the "Laznia" klub in Krakow:
Architect [DE]
Destroid [DE]
C.H. District [PL]
Monstergod [PL]
Entrance is opened from 6 pm, the concert is to start at about 7 - 7.30 pm.
To make the performance more attractive, the shows will take place on two stages - a "big" and a "small" one.
On the "big" stage, you will see:
ca. 7.30 pm - Monstergod
ca. 8.30 pm - Destroid
While, on the "small" stage:
ca. 10 pm - C.H. District
ca. 11 pm - Architect
Once the concert is finished, you can expect an afterparty, hosted by:
Frontman - Electroperversion (Krakow)
sub_h - egoist (Lodz)
Ozm696 - SSquad (Krakow)
tyka666 - SSquad (Krakow)
and most probably the rest of the SSquad.
Both the live performances and the afterparty are going to be enriched visually.
Newest comments: