Armageddon Dildos - Untergrund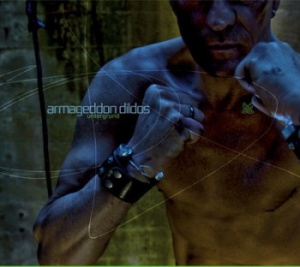 Reads: 2879 times
70%
Artist:
Galleries:
CDs catalogue:
Armageddon Dildos is one of those bands which, despite never achieving a massive commercial success on a global scale, constantly increase a fan base's craving for a portion of vigorous EBM combined with industrial influences. From the very beginning in the late 80's, the group of charismatic German musicians led by Uwe Kanka accustomed listeners to dance beats skillfully blended with mighty vocals reminiscent of Till Lindemann from Rammstein. The success was instantaneous – a clash of two ostensibly opposing worlds resulted in a truly explosive mixture, allowing the Germans to achieve a prominent position in the field of 'industrial dance'. Therefore, how does the new material present itself in comparison to their past accomplishments?
It should be made clear that the new record is surprisingly…different. It might be fair to say that the group expands their horizons trying to attract a broader range of listeners. This is due to the more numerable than ever amount of tracks which can be described as 'dancefloor anthems', at some points even amounting to pop, yet without losing their industrial touch, developed through the years of artistic creativity. Of course, everything that can be expected from a typical 'Armageddon Dildos' album is present here too – clear and bright sound of synths reminiscent of Front 242, additional guitar parts by Ulf Häusgen and perfectly recognizable vocal dominating over the instrumental background. All this flavoured with considerably larger dose of melody combined with a solid beat, resulting in hectoliters of dynamic sound pouring from the speakers. Trance-oriented "Innocence", almost symphonic "La Passionate" and standing for a tribute to the Rammsteinian heaviness "Gottland" distinguish themselves from adjacent tracks, but the ferociousness of the rest of the album cannot be denied. The entire album stands for a very solid composition, which is a perfect material for playing live, or constitutes a great way of getting yourself fully awake on the way to work.
Regarding the above, will 'Untergrunt' gain a prestigious place in this genre of music being an outstanding release, or at least a very good one? Well, very doubtful. The album suffers from a common syndrome of insufficient differentiation at the level of individual tracks and the lack of a certain keynote putting the material together into a coherent entity. Not without significance is the fact that some tracks are just plain in terms of musicianship and simply too long ("Furios"), thus becoming quite exhaustive after several listens. The listeners would eventually find themselves in search of some turning point, a stylistic disparity from the rest of the tracks. Unfortunately, despite the implementation of occasional interspersions (e.g. female vocals in "Hedonic"), they wouldn't manage to find it.
So, is the newest release of 'Armageddon Dildos' worth buying? The answer depends largely on the expectations towards this album. The fans of electronic vibes of EBM will probably be delighted with the spontaneous energy, reminiscent of the latest releases of Eisenfunk or Rotersand. However, the rest of the listeners expecting a bit more elaborate, multi-dimensional compositions will be presumably disappointed by certain simplicity and lack of creativity. It has to be clarified frankly that although one cannot deny the charm of unrestrained spontaneity and intensity of this material, it is not a good offer for those of a slightly more sophisticated taste. Nevertheless, there is nothing but to congratulate the guys from Armageddon Dildos on adding another valuable album to their discography, which will undoubtedly gain appreciation by connoisseurs of the genre.
Tracklisting:


01. furios
02. untergrund
03. blut
04. bodyworker
05. gottland
06. la passionata
07. the innocence
08. hedonic
09. baby snake
10. house of pain
11. der schrei
12. meer der tränen (crossed the line)
Other articles:
Newest comments: