Arms And Sleepers – 10th Anniversary Tour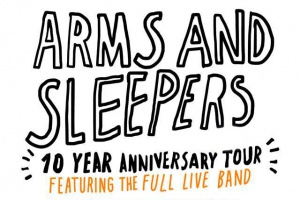 Reads: 2735 times
Artist:
Galleries:
Last topics on forum:
There are few places in Poznań with the unique climate as Meskalina. This club is friendly both for regulars and guest artists.
I had the pleasure to see the Arms And Sleepers for the first time live 5 years ago exactly in Meskalina. The band gave then an amazing performance that grabbed the audience. This time was quite similar.
In connection with the "10th Anniversary Tour" the group on the 11th May 2016 presented to the audience the set consisting of their most famous hits. It is almost difficult to believe that the band has been operating for so long, still with relentless passion for music.
Mirza Ramic said some warm words about the club, hospitality and a truly friendly atmosphere that prevails in it. There was, however, some bitter-sweet tone in the form of "Tour to celebrate the 10th anniversary of the band. And still not becoming famous. "
When it comes to the instruments – you could hear live the play of electric guitar, percussion, and the obligatory synthesizers, such as the cult model "nord electro 3".
Arms And Sleepers played hard and expressively. The audience throughout the whole show reacted very emotionally to individual songs. Piercing samples and musical contemplation introduced everyone to an exceptional atmosphere.
Delicate sequences of keyboards, interspersed with disturbing sounds of the guitar, were alternated with sometimes weakening, and sometimes getting on strength work of drums, while giving at the same time opportunity to dive into an ambient atmosphere. Thanks to that you could verify the characteristic feature of this group, which is creating in a thoughtful way the structure of the subsequent tracks that works perfectly during the concerts.
Other articles:
Newest comments: