Atari Teenage Riot + Rowdy Superstar + Junkie Punks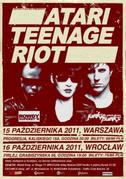 Reads: 2276 times
Artist:
Galleries:
On 16th October 2011 the legend of Digital hardcore
Atari Teenage Riot
appeared in Firlej club in Wrocław. After a break lasting as long as 11 years the band returnem with a new album "Is this hyperreal?" which was promoted in two Polish cities – Warszawa and Wrocław. There were quite a lot of fans who came to see their idols particularly because they couldn't see them during Castle Party in Bolków. The weather made that impossible. The concert was preceded by two supports: Polish
Junkie Punks
and British
Rowdy Superstar
.
Junkie Punks
describe themselves as "Sex Pistols behind decks". The performance of this duet was not that much astonishing and did not gather so many fans (most of them stayed in the bar at that time) but it was pretty good digitalhardcore warm up. Especially their remix of The Prodigy enlivened the audience a little bit.
When it comes to
Rowdy Superstar
… to be honest I was a little bit afraid of what I was going to hear and see when I got to know that the band presents rap. However, I have to admit that I enjoyed that much. Not only me by the way. This time there were much more people in front of the stage who danced and sang along with the vocalist. Psychedelic rap with a bit of old-school hip-hop and pop plus charismatic duet gave an amazing result. For me the most memorable song was "Tick Tock" during which the audience spontaneously sang with the vocalist "tick tock tick the clock...". a big surprise and a very big plus, especially for the vocalist, who had a great contact with the audience and who really prepared them for the main star.
When the long-awaited trio appeared on the stage the audience went mad. We heard "Activate!" (the single for the latest album) and our eyes were attacked by a huge dose of lights. Alec, Nic and CX Kidtronic impulsively ran on the stage starting their crazy show. It was fire! Almost all tracks from the promoted album were played. There were "Black Flags", "Blood in My Eyes" or "Codebreaker". There were also some older tracks such as "Into the death", "Speed", "Sick to Death", "Start the Riot". After almost an hour
Atari
left the stage. However, the audience didn't give up demanding an encore. The band returned for two more songs "Collapse of History" and great "Revolution Action". It's hard to criticise them for anything. The band proved that after years of absence it is possible to come back with twice as much energy and great music.
Atari
didn't lose anything from their glamour and proved to be a great band. They still have a lot of faithful fans enchanted by their creativity. We could only congratulate them great form and amazing show.
Other articles:
Newest comments: