Galleries:
Last topics on forum:
Archive: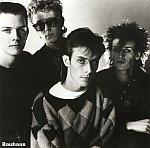 The band Bauhaus, which has reactivated recently, will come to Europe for the first time since 1998.
"The Near Atmosphere Tour" will start on 28th January in Dublin. Next Peter Murphy and his friends will go to Great Britain, Denmark, France, Belgium, Italy and Spain. Presently Bauhaus is in the course of the tour in North America.
Newest comments: