Black Nail Cabaret - Satisfaction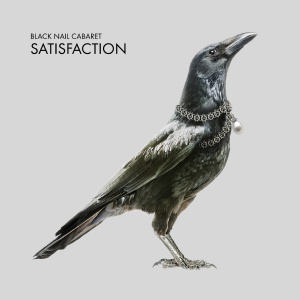 Reads: 3509 times
64%
Artist:
Galleries:
CDs catalogue:
Last topics on forum:
Black Nail Cabaret is a female duo originating from Budapest (Emese "Emke" Árvai-Illes responsible for vocals and Zsofia "Sophie" Tarr behind the keyboards). Despite their name, they do not create in dark cabaret style. Synthpop plays. And no, they do not imitate Ladytron.
"Satisfaction" single is the second foretaste of the "Harry Me, Marry Me, Bury Me, Bite Me" album, and it includes two original songs, and two remixes of the title composition. Hungarians describe their music as pop noir, which term fits the concept adopted by them. Namely, the common denominator of their artistic activity is elegance, French glamor in the Coco Chanel style. And emanating from the classic, simple black sensuality.
We have all that in "Satisfaction" composition telling about stagnation, which results from the loneliness and frustrations emerging from unrealized needs. No wonder then that in the entire track's course it is present a constant voltage, built by irritating the nerves, but melodic electronics and by moderate, deep, hypnotic beat. Impression of being stuck in time is overwhelming, but extremely pleasant, as the song introduces into a trance, through which it is difficult to break through by anything from the outside. An important role is played here also by the impressive vocals - mature, sensual, low, operating easily on subtle changes of expression. The composition, which has an expressionistic video, gives a clear message: "We're not wax museum of synth-pop stars, we have our own style". It is hard not to admit that for me it is one of the best electro-pop singles that I have heard in recent years. In one word: magnifique.
The more pity that about the other composition - "Elizabeth" - you cannot say as well. To sung words "fast food, fast drink, fast love" I would pleasantly add "fast composing". Because, if you ignore the lyrics, you can pay attention to the vocal full of potential, as well as it can be heard that the duo meant something in this song that it was supposed to aim at something, then it sounds more like an unrealized promise, which quickly will be forgotten.
People Theatre's remix adopts original composition to the floor, transforming it into danceable electro. However, it is stripping it away at large extent from the climate, but it falls out so good that you can forgive them.
I was always skeptical when it comes to remixes issued by Haujobb. This is like that now. The composition was filled with concern to the brim, devoid of basic beat, but it does not stand out with anything interesting except importing the sounds of the ticking off clock as a marker of passing time.
Black Nail Cabaret - is it worth it? Although not without stumbling, I think the new album is worth to try.
Tracklist:
01. Satisfaction
02. Elizabeth
03. Satisfaction (People Theatre s care mix)
04. Satisfaction (Haujobb-Remix)
Other articles:
Newest comments: