Bloody dead and Sexy - An Eye On You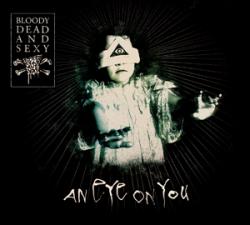 Reads: 2488 times
85%
Artist:
Galleries:
CDs catalogue:
At last! After a 5-year break Bloody Dead and Sexy have come back with a brand new record. The album, entitled "
An Eye On You
", proves that German enthusiasts of melancholic sound still have something to offer to their ever-faithful fans, as well as to "not-in-the-know", ordinary lovers of the darker kind of rock.
To begin with – let's get something straight – the adjective included in the name of the band (that is 'Dead') has nothing in common with the music itself, which tries as much as possible to sound gloomy, dark and literally dead but simultaneously remains vigorous in an odd way. Moreover, the album will surely enliven the genre, bring some new energy and live to it. 15 tracks, which are included on "An Eye On You", relate to the previous records of the band – distinctively "pulsating" bass guitar and sort of "wailing" (certainly in a good sense of the word) voice of Rosa Iahn are hallmarks of the Bloody Dead and Sexy's music. However, does duplicating the same musical pattern work to an artist's advantage in every case? Rosa Iahn, Tim Schande, Björn Henningson and Matias 13 had decided to take a risk and their decision turned out to be successful in the end.
"Solemn Times", a track which opens the album, is a prefect prelude and portends an extraordinary, musical journey into the world of a poetic melancholy. "City Ghosts", my personal favorite, from the very beginning captures your attention with rhythmic percussion and disturbing, half-broken guitar riffs, which combined with the voice of Rosa Iahn make a representative for its genre piece of music. "Decent Scent of Poison" is a sort of a musical "love story" - an ordinary theme for a song, nothing revealing but the style characteristic of the band let them write "not another love song", deprived of fake sentiments and affectation. The next in order - "Reaping Day' appears to be a track which relates in its sound to the band's tunes in a true and proper way – especially its beginning brings to mind "Bloody Rose" from the album "Paint It Red". "An Eye On You" doesn't lack varieties in the form of three interludes, entitled "Three Corners of an Eye", which are an indirect reflection of the album's title. After a while of an alleged pausing for breath, caused by one of the interludes, our sense of hearing is being attacked by "the Fix", then comes "A Clockwork Symphony" - an extraordinarily calming track, in which the leading part belongs to the bass guitar, splendidly supported by the guitars and the drums, next comes "Candy Box" - in contrast to its title – no sweet, proper sound – the dynamism and violence of guitar riffs remain still, undisturbed. It is also worth paying attention to "Sunglasses for a Funeral" - probably the most cheerless song on the record, which literally overwhelms with its loads of melancholy, fortunately it is not harmful (at least, that's how it worked in my case).
Every person, who wants to familiarize themselves with "An Eye on You", will undoubtedly find something to their taste on it: may it be a catchy melody, state-of-the-mind lyrics or a blasé voice of vocalist. The tracks are not all the same regarding the sound, which makes the album mesmerizing and absorbing, not tiresome whatsoever. Despite my prejudices in the beginning, I have to admit that after having listened to the whole album, its content did not disappoint me but it did surprised me in a positive sense of the word. I recommend the new album to all the people who are keen on a punkish/gothic/new wave sound but also to the incorrigible optimists – after all, a certain dose of sweet melancholy does good to everyone!
Tracklist:
01 Solemn Times
02 City Ghosts
03 Decent Scent of Poison
04 Reaping Day
05 Song of Truth
06 Three Corners of an Eye, Part I: Lower Right Corner
07 The Fix
08 A Clockwork Symphony
09 Candy Box
10 Saeta
11 Three Corners of an Eye, Part II: Upper Corner
12 The Upper Floor
13 Sunglasses for a Funeral
14 Der Kuss
15 Three Corners of an Eye, Part III: Lower Left Corner
Other articles:
Newest comments: