Blutengel - History-The Vinyl Collection-Vol. 2
Artist:

Galleries:

Last topics on forum:

Archive: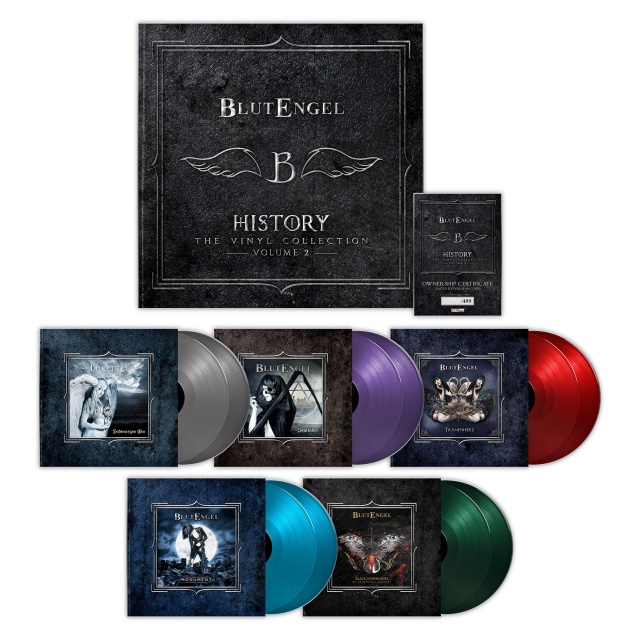 "History – The Vinyl Collection – Vol. 2" unites the next batch of Blutengel-classics in a strictly limited vinyl-box-set in a classy glossy cardboard slipcase.

The new set picks up where "Vol. 1" left off and contains the albums "Schwarzes Eis", "Soultaker", "Tränenherz", "Monument" and "Black Symphonies", all as 180g color double vinyl sets in gatefold sleeves. Each of the included album was carefully remastered by the artist himself to ensure the best possible sound on vinyl and has never before been released on this most noble of all formats.
All five double-LPs will be exclusive to this box set which will be limited to 499 copies, world-wide and will include a hand-numbered ownership certificate. Like the first part of the series, "History – The Vinyl Collection – Vol. 2" is a real gem and belongs in every serious Blutengel-collection. And after experiencing these classics in the warm and saturated glory that is vinyl, you will feel like listening to them for the first time in your life.
Available from 31 August 2018 by Out Of Line.
Tracklist:
Schwarzes Eis:
A1 Behind The Mirror – 06:00
A2 Kind der Nacht – 04:47
A3 City Lights – 04:12
A4 My Nightmare – 04:22
B1 Pure Life – 04:18
B2 The Only One – 05:14
B3 Dancing In The Light – 05:03
B4 Schneekönigin – 05:35
C1 My Darkest Nights – 05:48
C2 The Dream – 05:02
C3 Dreh dich nicht um – 4:56
C4 Broken Girl – 05:36
D1 Secret Places – 05:14
D2 Schatten - 05:41
D3 Nightfall – 04:47
Soultaker
A1 Soultaker – 06:17
A2 Addicted To The Night – 06:15
A3 World Of Ice – 05:18
B1 Why Do Even Angels Have To Die? - 05:06
B2 Engelsblut (Fallen Angel Remix) – 07:44
B3 Engelsblut (Eternal Life Remix) – 06:35
C1 Behind The Mirror (Shadow Remix) – 05:06
C2 The Princess (Princess Of Ice Remix) – 07:16
C3 City Lights (City Nights Remix by Ashbury Heights) – 04:19
D1 Soultaker (Black Soul Remix) – 06:53
D2 Soultaker (Groove Mix by Lost Area) – 06:12
D3 World Of Ice (Clubfire Remix by Miss Construction) – 07:34
Tränenherz
A1 Tränenherz – Prologue – 03:02
A2 Über den Horizont – 04:16
A3 The Lost Children – 04:29
A4 Save Me – 04:50
B1 Irgendwann – 04:47
B2 The Watcher – 04:46
B3 Ordinary Darkness – 05:44
B4 Reich mir die Hand – 03:25
C1 Down On My Knees – 05:11
C2 Doomsday – 04:43
C3 Undone – 03:59
C4 The End – 06:06
D1 Das andere Ich – 05:55
D2 Ein Augenblick – 05:10
D3 Tränenherz – Outro
Monument
A1 A New Dawn To Rise – 01:25
A2 You Walk Away – 03:55
A3 Kinder dieser Stadt – 03:31
A4 All These Lies – 04:45
B1 Tears Might Dry – 05:07
B2 Uns gehört die Nacht – 04:07
B3 Die Zeit – 05:11
B1 When I Feel You 04:14
C2 Willst Du? - 04:24
C3 Nie mehr – 03:50
C4 Save Out Souls – 04:21
D1 Deine Welt – 03:57
D2 Lebensrichter – 04:09
D3 Monument – 04:04
Black Symphonies
A1 Legend / Nachtbringer (Symphonic Version) - 05:49
A2 Krieger (Symphonic Version) - 04:04
A3 Soultaker (Symphonic Version) - 06:08
B1 - Über Den Horizont (Symphonic Version) - 04:17
B2 - Deine Welt (Symphonic Version) - 04:15
B3 - Behind The Mirror (Symphonic Version) - 06:15
C1 Kinder Dieser Stadt (Symphonic Version) - 03:29
C2 Reich Mir Die Hand (Symphonic Version) - 03:55
C3 Die Zeit (Symphonic Version) - 05:08
D1 Seelenschmerz (Symphonic Version) - 05:55
D2 You Walk Away (Symphonic Version) - 04:10
D3 Monument (Symphonic Version) - 04:05
Author:
hellium
Source: Out Of Line / 2018-07-09 / News
Newest comments: