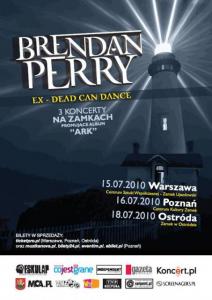 Reads: 2621 times
Galleries:
A name of Master is used to describe a person who almost achieved perfection in particular field. Whereas in music with Master's name you nominate icons, vocalists, guitar players, whole formations which by gaining countless throngs of fans proved that through the sound you can tell more than through image. So we have Jim Morrison, Bob Marley or Guns 'n Roses. These are faces recognizable by everyone. Yet, why not venture looping for these icons before the'll become acclaimed them? If we look around well and prick up one's ears, the candidate will definitely become Dead Can Dance. Unfortunately, time for artwork suspension has touched –as well as many others- this project, too. However, if we were to cut it into pieces, then both Brendan Perry and Lisa Gerrard together, or in a solo issue, remain the Masters.
A happening, which Perry's concert surely is, cannot be let unnoticed. Long time before the show in the courtyard of the Poznan Castle one could see posters hanging out all around the city. But we can still be sure that even without such eye-catching advertising campaign, "The Ark tour" would draw equal numbers of fans. Looking around the coming people, we could notice both rockmen with long pony-tails and those wearing classical clothes, or ladies in stilettos, up to the dark fellowship. The group of audience, though being so varied, had the same goal.
Voices of the talking, coming from benches being already full, fell silent whenever Perry and his band came onto the stage. Since the very beginning it was beautiful. The artist's vocal has some kind of unspeakable charm that gripped probably everyone that memorable evening. Poetic atmosphere perfectly plaited into the castle's bailey. Since then one could travel with half-closed eyes through their own world of emotions, which Perry can evoke so well. Such lofty music Gould move even a stone. We could hear "Arcane", or the hypnotising "Utopia". Lights in shades of violet or green were reflecting on the walls, delicately hung by treetops which proudly showed off in the courtyard. Beside this there was no visual enhancements. Anyway, those would look funny by the side of masterful music that defends itself without. Most of the public seemed delighted. Expression of this could be noticed in the very and. Long long time Polish fans were shouting for an encore. But it was worth it. Perry once again appeared on stage to satisfy, at least for a moment, insufficiency of the audience who wanted the concert not to end ever.
Unfortunately, time to go home had to come finally. However, ecstasy in veins was still glaring. The beloved music delicately sounded in the head, the artist's silhouette, so full of concentration, was still visible in front of the eyes. Thus there's nothing left but to wait for the next doze of the concert nectar which master Brendan Perry makes up with such feeling, what makes him deserve paramount applause.
Other articles:
Newest comments: