C. H. District - Pneuma-ti-coi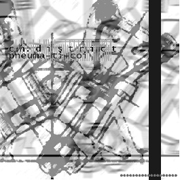 Reads: 5599 times
90%
Galleries:
Last topics on forum:
Let's start with C.H. District - they should be known to people open to new sounds - those who think they belong to that group are heartily recommended to dive into the breakbeat - the genre presented by our local band. Before you start criticizing me - please don't take the category for granted. After all, Mirek (the mastermind of the project) sometimes wanders off into IDM or even noise. Let's get down to biz, though.
The first track – "C.H. 8 Clot" is not only a taste of things to come, it simply casts us into a vortex of broken sounds, who in theory should not create the final, ingenious effect. The first seconds bring a strong beat that's not going to leave us for the next six minutes. On such a solid backbone C.H. District unfolds the whole melody - very easy to spot, quite unexpectedly. A perfect "harmony" arises from the chaos.
Another interesting addition are the background voices, creating a heavy atmospherical buildup. It won't leave us in the next track - "C.H. 4 Gift". A present in English, or a poison in German. Here the backbone is not a broken beat, but metallic sounds that bring images of an empty factory or laboratory to my mind. After a while, the moody ambient turns into a mix specific for C.H. - with an extra element - a synth piano, or rather something that is meant to suggest that instrument. Again, we have to cherish the craft of mixing so totally varied sounds przeplatania ze sobą tak skrajnie różnych dźwięków. The next track, the title one "(C.H. 7) Pneumaticoi", is supposedly a gentle move into more ambient regions. Quite the contrary - when you think you decrypted the track, crackling and beats appear out of nowhere, leaving you with no doubts - it was not meant to be, and is definitely not, an ambient album. It's a C.H. district album. I shan't be brave enough to compare it to anything else. I have to admit it's hard to describe the following tracks - you have to believe me - single tracks constitute a coherent whole, and you can't treat them as separate tracks - they are devilishly similar to each other, but hellishly different at the same time. Despite my honest attempts, I shall not try to describe them in detail - it's better to leave this review honest, rather than trick you into believing me. Read what I've written about the first songs and maybe you'll get to the core of C.H. - a mix of industrial and ambient, IDM and noise, something amazing - Polish breakbeat. C.H. District is undoubtedly one of the best Polish alternative projects known to me. I want to use this opportunity to remind you of this year's Castle Party, where you will have a chance to see it live. Without Suka Off's visuals, but you should take what you get.
Tracklist
:
1. c.h. 8 clot
2. c.h.4 gift
3. c.h. 7 pneumaticoi (second unit)
4. c.h. 9 the first symptom of artificial
5. c.h. 10 dianoia
6. c.h. (ambient) this is my regred
7. gift [two shades of gray-moan remix]
Links
:
www.chdistrict.com
Other articles:
Newest comments: