CoCArt Music Festival 2009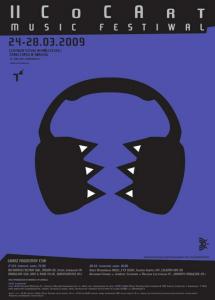 Reads: 5777 times
Artist:
Galleries:
Last topics on forum:
Towards the end of March we could participate in another edition of CoCArt Music Festival. Just like a year before, the band members from Hati together with the Centre for Contemporary Arts in Toruń were the organizers of the festival. The second CoCArt Music Festival was enriched with some additional attractions. Despite listening to musicians of international renown, the participants could take part in many workshops and exhibitions. The organizers made sure that each participant found something interesting for themselves. The program of this year's festival promised to be interesting. The artists presenting their music came from different countries and besides Polish musicians there were artists from the USA, England, Germany, Japan, Portugal and Sweden.

As it is with this kind of events, they gather musicians who create within certain conventions. Consequently, participants' opinions usually vary. Similarly, during the second edition of CoCArt Music Festival, I heard both favorable opinions as well as those negative ones.

Unfortunately, I was not able to participate in all the events and workshops due to the very demanding plan, yet what I saw, was absolutely sufficient. The first concert I took part in was a very small performance which was not held in the CSW but in the nearby Ethnographic Museum. Swedish musician, Herman Müntzing probably filled the whole audience with admiration with his one but long piece entitled "Stockholm Serenity". No one even dared to whisper. Everyone watched the musician attentively and listened to every sound produced by him. The performance of course met with applause. And indeed, it was one of its kind, improvised from beginning to end and played on rather unconventional instruments. Herman Müntzing says about his instrument that "the Flexichord is a musical instrument built out of two electric guitars and a piece of solid wood, placed horizontally"; but what he uses to create his music is even more surprising "I use all kinds of preparations; rubber, metal, wood, glass, plastic, sawblades, chopsticks, stones etc."

After the concert in the Ethnographic Museum, the audience moved to CSW, where the organizers invited everyone to watch and listen to the audiovisual performance of Emiter's (Maricn Dymitr) and Ludimir Franczak's students. Emiter and Franczak create improvised music and art, and what goes with it their students' concert did not sound banal either – and the atmosphere was really unique. Despite the fact that the performance was not a very innovative one, still it was worth seeing.

The last band that appeared during the first day of CoCArt Music Festival was a project created by Tomasz Mirt and Tomasz Gadomski (with the cooperation of the band member of Brasil and the Gallowbrothers Band). The project is a clash of two different "worlds" which at the same time complement each other very well. On the one hand, there are percussion and acoustic instruments and on the other, there is a wide range of electronic sounds but the balance and minimalism is kept. Tomasz Mirt writes that among the pieces they presented during the festival were: "some lyrics from '88 recorders' from 'Si, Si' and one was created on the basis of 'murky piece with trumpet'".


After their concert the time has come to go to the after party. The official after party was held in the NRD club. From what I heard and saw, those who missed the after party did not really miss much. Most of the participants, as well as musicians chose some alternative ways of spending the rest of the evenings after the concerts in CSW. Nevertheless, these are only subjective and second-hand opinions.

The second day of the festival opened with the appearance of our Polish group – Videoturisten. Honestly speaking, I have never heard the band before and I do not really remember much from their concert. Partly maybe because I heard them for the first time or maybe because the whole second day was filled with music that was not especially diverse. That is why, it is very difficult to write anything specific about the performance. The only thing that comes to my mind, is that, the guys from the band created some kind of musical collage, mixing electronic sounds, percussion and trumpet with audiovisual elements.

Next performance took me by surprise. Victor Joaquim and Hugo Olim stepped on the stage and just sat in front of their laptops and started to play. It looked inconspicuous but appearances can be deceptive. This very minimalist and delicate performance was really successful. Victor Joaquim's music in combination with Hugo Olim's visualizations made a really good impression not only on me but on the audience as well. During the festival we could listen to 3 songs. One of them is "The Devil is in the Detail" (which as Joaquim claims "is part of a compilation of Cronicaelectronica label, and it's free to download at http://www.cronicaelectronica.org/?p=032) and the two remaining tracks "still to be released under the name 'Existence'".

The organizers of the festival appeared among musicians as well. Hati – the group formed in Toruń, played together with Pure – who came to Poland from Vienna. Our Polish musicians should not be ashamed at all as their performance came out really well compared to the remaining artists performing during the second edition of the festival. It was a skillful combination of electronic sounds produced by Pure and acoustic sounds of our Polish musicians.

However, the tension was mounting up as most people probably waited for another band that was supposed to appear that day. The audience could not wait to hear some music by Troum. Just like most artists during the festival, Troum did not present any well-know tracks but instead it was a "one-tracker" – "one long track, that is not released yet" (but as Stefan Knappe assures "maybe there will be a studio version next year"). For forty minutes Troum's music filled with drones and the sounds of instruments such as balalaika or melodica, was putting the audience into a trance. And, as usual, some people are delighted with the performance while others are disappointed. In my opinion, it was a really good concert.


Probably hardly anyone from Poland had the chance to hear Reformed Faction live. The band was formed by two former members of Zoviet France. Both Mark Spybey as well as Robin Storey create music in their own bands; Spybey is connected with Dead Voices On Air and Storey creates as Rapoon. Their performance during CoCArt Music Festival was really one of its kind and those who missed it probably already regret it. Their music together with outstanding visualizations made an impression on the audience. I suspect that most people were not disappointed after the concert.

Unfortunately, I did not have a chance to participate in the last audiovisual concert of the English band – Modulate. But the opinions I heard about it were really positive.

Our German neighbours form Column One opened the last day of the festival. Column One comes from Berlin and creates on the music stage since 1991. It is a quite interesting group, especially as they are influenced by the works of W. S. Burroughs, Genesis P-Orridge, and movies directed by Andriej Tarkovski, Derek Jarman, Ingmar Bergman, Lars von Trier and Alejandro Jodorowsky. And indeed, their performance was really unforgettable and curious. The music was combined with cut-up technique. I will not even try to interpret what I saw on the stage as the interpretations probably vary depending on the point of view. For those who want to see it on their own eyes, please visit our gallery.

Magic Carpathians "mix traditional instruments from Eurasia, used to create trance and liturgical music, with the new approach to the improvised music". Despite the fact that they have considerable achievements, Magic Carpathians's concert was decent yet nothing exceptional happened during their performance.

The concert of Richard Pinas, Jérôme Schmidt and Milosh Łuczyński was really interesting and enriched not only with Łuczyński's visualizations but also with Pinas' – who is unquestionably a living legend of French underground – guitar sounds. The guys did not disappoint the audience and played a really excellent concert filled with optimism and freshness.

Oren Ambarchi appeared as the fourth artist during the last day of the festival. Many people probably waited for this particular artist and many, in fact, participated in his concert. I personally could not stand those monotonous drones and went to explore different parts of the Centre for Contemporary Arts.

All of a sudden, Z'EV began his performance without any sound systems and without any unnecessary preparations. Of course, he did not perform on the stage like all the artists but lured the audience to the corner of the garage where all his remarkable percussion instruments were ready to use. His performance resembled some kind of ritual, and was really worth seeing. The audience of course, gave a standing ovation and demanded an additional performance.

Saturday's concerts ended with Sunao Inami's appearance. The artist of Japan decent who is an avant-garde veteran of electronic music in Japan, offered us a great dose of sounds that could not be heard in any of the previous performances. Not everyone liked his rousing, and fully improvised music in the IDM style, but it was a nice break from heavy and heavy-going sounds, which predominated during this year's edition of festival.

Despite the fact that it was only a second edition of the festival, it came out really well. Of course one can always complain that the selection of artists could be better, or that there were some problems with organization, but it is impossible to satisfy everyone. In my opinion, the second edition of CoCArt Music Festival was really decent and the only thing I can do is to wish the organizers good luck with the next edition.

Pages:
Other articles:
Newest comments: