Coffin & Co. Party vol.3 [VIP dark scene evening]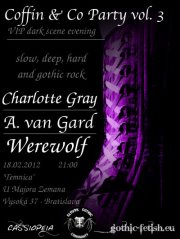 Reads: 1310 times
18.02.2012 – Pri Majora Zemana, Bratislava

A lot of times I have already been to the Slovakian capital city, Bratislava, to carry out some ethnographies on the local underground rock scene. I didn't find much traces of the dark scene, though.
By accident I found the club Batelier, which is hidden in an old factory complex. There was an 80's party going on, where I got to know easily some people from the local gothic and dark electro scene. One of them, outstanding through his active participation in the dancefloor happening and always trying to motivate the others to dance, introduced himself with the cryptic name QX-RH85. He told me that he is making music himself and told me that on the following day a gothic event is going to take place in the basement of the bar Pri Majora Zemana.

The next evening we decided to attend this event. The bar is really big, as we found out while entering the basement. More and more familiar faces from the day before we saw, so we thought this must be the right place. In the very last room, quite small, the DJ-action was taking place. At first we couldn't see what was going on, because the room was full of fog from the machine. Candlelight did the rest to give it a nice gothic ambience. We started to dance right away. In our steampunk outfits we got the attention of the people, also of one of the three DJs, A. van Gard. I talked a lot with him about music and we found out that our tastes are not so different from each other.

The three DJs, Charlotte Grey, A. van Gard and Werewolf, served the crowd the finest pieces from gothic rock and post-punk, there were always some people present on the dance-floor. One girl was continuously dancing in front of the DJs. She turned out to be the girlfriend of A. van Gard, Devon, who is also active as a DJane. On March 30th they will hold an event together in the club U očka called Walking in Spiderwebs.

So I finally found the gothic scene of Bratislava and was surprised, how many events are going on in this nice city. I have been told that there is also a batcave party organised once every two months. This would be definitely worth another visit.





Newest comments: