Coil with Black Sun Productions - The Plastic Spider Thing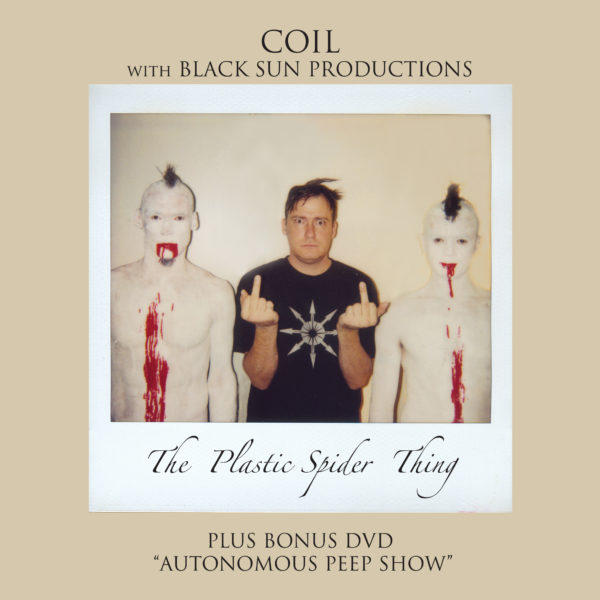 Re-release of the legendary album, featuring Coil's music literally remixed and re-arranged in ritual form to serve as the soundtrack to the Black Sun Productions extreme performance art spectacle entitled 'The Plastic Spider Thing', following the performers' every single move. Synths, drones, and psychedelic textures lead us on mystical tour, serving as a testament to the undeniable connection between Coil's music, ritual magic, and performance art.
Available from 20 October 2017 by Rustblade.
Tracklist:
CD:
01 Every Spider needs at least One Victim. 02:54
02 The Spider has to paralyse the Victim. Paralyzing occurs when the Victim is photographed with Flash by a Polaroid Camera. 02:53
03 The Victim is without Will from this Moment on. 05:00
04 The Spider now takes the Victim to undress Him. 09:05
05 When the Victim is undressed, the Spider sets him in the desired Position. 05:39
06 Now the Spider cocoons the Victim, meaning the Spider wraps the Victim in Plastic. 05:39
07 When the Cocoon is finished the Spider watches the Victim, his Artwork is done. The Spider makes another Polaroid, the next Image for The Plastic Spider Thing Diary. 04:37
08 The Spider now sucks out the Victim. 07:47
09 The Spider got what he wanted. Satisfied and full of Blood he makes another Polaroid of the Victim: The Awakening. This is the third and last obligatory Polaroid for The Plastic Spider Thing Diary. 02:44
10 Hello Victim! Awake! The Victim gets back his Freedom. 02:37
11 All this has always to be filmed. The Cameraman has to wear a Black Leather Coat. 07:35
12 There is always a Soundtrack. 06:31
13 More Photographs and Polaroids are good! 05:13
BONUS DVD:
01 The Esoteric Mystery of Coil revealed
02 Meet Murder My Angel
03 Marziale
04 Forte con Brio
05 Brothel Tango
06 A List of Wishes
07 A well hung Monk
08 Autopsia di un poeta
09 Solar Lounge
10 Das Gegenteil
11 Chemism
12 Veneration X
13 Uncle Billy
14 Watching Salo
15 Dimenticata
Newest comments: