Combichrist, Reaper and Northborne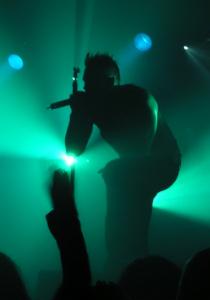 Reads: 11391 times
Artist:
Galleries:
Last topics on forum:
Combichrist, Reaper, Northborne - Sheffield, 10-03-2007 .
I haven't been hearing into the
Northbone
because of technical difficulties which I had to take care of, like locker room, shop, etc. Generally it was nice, although not so specular. Crowd reacted pontaneously to Icon of Coil cover played by the boys from Norway.
Reaper
- these gents I don't have to introduce. Very energetic concert - it even awakened well-known english disposition of audience (I envy you, you'll be partying among most enthusiastic Poles). Vocalist shows even more charisma and has even better contact with the audience (compared to august 2006, when I saw them last time).
Combichrist
- unfortunately, I'd like to point out in the beginning, I can't be impartial (kind of a grown up version of sixteen year old syndrome ;)). Crowd went wild from the beginning. Andy is a born showman and he knows what to do, to make the audience love him. He contaged everyone with his enormous energy. Good contact with the audience - literally and figuratively (often he would get off the stage, sharing his microphone, instuments parts and drinks with fans).
Boys started vigorously with 'Today I woke to the rain of blood', then 'This is my rifle' i 'Blut royale', and 'Electroheads'. In sum they played all their greatest hits, unfortunately they skipped a few pearls from their new CD (for example 'What the fuck is wrong with you', or my type- 'romantic ballad': 'Shut up and swallow'). In my opinion, the madness reached it's peak during 'Are you connected' (with a funny sample from the movie 'Suicide circle', which I recommend) - two intesnse drum sets and four walking bombs caused the fact that 'this shit destroyed everyone'. Predictably, for their second encore they played 'This shit will fuck you up'. Individual band members looked very 'partied-out' (drummer for example lost his sticks, knocked down elements of his set and had a while of 'grasping the level' when he stood up, keyboarder almost stepped on the keyboard). Traditionally Andy asked about after party. Both Reaper boys nad CC showed up on after, nice, eagerly talked, gave out their autographs, made photos, partied and… picked up chicks (or rather allowed to be picked up).
Because of unknown to me reasons concert lacked Mr Petersen…
A bit more scepticallly I'll add, that Combichrist is becoming nice money-making machine - you could get a lot of shirts, leashes, etc. (I'm wondering what else will feature logo with skull, which attracts clients). Among interesting things - you can get limited (three-hundred-something quantity) version of last Reaper album - available only druing tournee (the only difference is that it's in a metal box, something for collectors).
These concerts are this year's 'must see', or rather 'must experience', because it's not only about audio-visuals, but entirety and extraordinary amount of energy… I'm not grading vocals, or technical skills of musicians, I'm talking about overall impression, which makes CC just the way I love it - energetic and aggresive.
Other articles:
Newest comments: