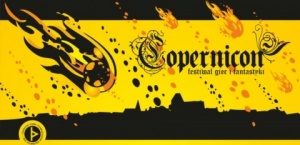 Reads: 2499 times
Galleries:
Copernicon 2012

Throughout September I watched as the organizers were adding posts on their fanpage, announcing the coming of something great. It's very nice that they keep in contact with convention goers and every day facebook was flooding those uncertain with incentives. In fact, if not for those and the thrilling Zombie Walk, I wouldn't decide to go. However, with such a promising program and cool t-shirts designs I had to turn up.

The venue

According to the program the event was to take place in the city center (a year ago it was in distant Rubinkowo). This year participants praised the closeness of the secret cellars where they went to enjoy the golden liquid. According to my colleague Ragnarok already upon arrival we've experienced the first pleasant surprise. The building in which the convention was held was neither a modern building, so unfitting to the favorite fantasy themes, nor a relic of communism. We were welcomed at the Collegium Maius, historic, neo-Gothic, climatic building that with its thick brick walls, rather dark interior, wide wooden doors and damp and narrow at places basement fit into our architectural tastes. Unfortunately it was not the only convention building, entertainment also took place at Arthur's Court and the castle, where knights were hiding.

The beginning

With a sore throat and almost at the end of my tether, I went to pick up accreditation. Queue was long but waiting heightens appetite. Service and the entire system worked very well, nice security, helpful gofers. It's true that most of the atmosphere is created by people and organizers in Toruń passed time together with the participants. At the entrance everyone got a nice and concise guide, map and a tag, with cool graphics. At the information desk you could order a special Copernicon pizza and at the bottom there was a well-equipped cafeteria. The visitors' dormitory was prepared in one of the schools. In fact, the basic organization came off flawlessly.

As it's impossible to be in several places at once, we had to choose from many proposals. These were divided into blocks, Great Hall (mostly meeting with guests), Literary, Scientific, RPG, Pop culture, LARP, Competition, Japan - Anime - Manga, Star Wars, Games Room, Card Games, Miniature Wargaming, Video Room, Hall and Castle Square. Choice was huge and even the non-initiated people could familiarize themselves with certain fields. And so did I as I'm not really familiar with RPG.
The (little)World of (slight)Darkness (Świat(ek) Mro(cz)k(u)) for the uninitiated was carried on by Peter "Phennem" Lemanski. I have to admit that I expected an abstract approach and incomprehensible content but it was really cool. Lecturer spoke in an interesting way and accessibly for everyone, examples from your own experience enriching his speech. If other lectures looked like this one than I really regret that it's impossible to be in several places at once.

Rest of the evening I spent on dropping on and off to see what other participants were doing. It was troublesome running the floors, not to mention running between buildings. This, unfortunately, it's Toruń's weakness that a flat and large area is impossible to find. Quantity of rooms and events was big, but the number of participants not impressing. I understand that this is not Polcon or Pyrkon but dispersed crowd made it look empty at times. Lectures were held in time and, depending on the field, gathered different amounts of listeners. In Game Rooms, by Board Games and in LARPs it was even crowded.


Saturday

Ill or rather totally ill I barely pulled myself together. Arriving at the centre I noticed with joy increased concentration of "metals" in the air. No, it's just the number of long-haired visitors and their nailed boots. An impressive lot of people between 16 and 22 gathered, it definitely built up the atmosphere. In my free time I went to play a game in "Turtle Race" but there were also board games for those more ambitious. For those who like to move there even was table football. In the underground quite a group of curious people gathered watching how different miniature wargaming were going. Briefly, the convention unfolded.

As some one new to this type of events, I looked for something to my on interests. I went to a contest: What do you know about vampires, man? Led by Sylvia "Vamppi" Błach, my personal favorite when it comes to literature. No, "Twilight" was not the main theme as most of the participants would fall on such questions, classic dominated. Large group of convention guests came and impressed with their knowledge. There were plenty of funny situations. Unfortunately, I couldn't stay at the meeting.

Tearoom was a nice place, good exotic tea, people sitting on the ground, in the dark, with candles, listening to lectures. Buffet for the hungry, continuously crowded, nice dinners, even a cake. In the corridors one could meet characters from Star Wars, knights returning from the castle and festive convention goers. Attractions which I missed, and wished I hadn't, were Fireshows and fiershow workshops. Bad weather effectively discouraged me to visit the Arthur's Court, and it was worthy of a visit since many celebrities were invited. On the same day board games and game room tournaments were held. Toruń Fortress Master Cup 2 for the best MG and Jeepform.



Stands

This topic is hard for me to comment because I have no experience. As for me, there could be more. There were some cool accessories, clothes, some books (but not enough), lots of stuff, game themes, posters, quite decent. Phoenix Gaming Center (Centrum Gier Feniks) was the most crowded booth and there you could take part in the lottery and also buy your favorite board games.

Shop and convention currency

Some drawbacks here. Amount of issued currency for the competitions was small, to put it mildly. I know that it was a small convention but even not to get a t-shirt for a 2nd place? A lot of people complained about it and the shop was equipped according to the amount of currency;) Small choice, a few books or cool prizes but it's a matter of taste. On Saturday evening there was almost nothing left and of a S size girl shirt you could dream. I don't want to know what was there on Sunday.

Atmosphere and the ending

Sunday morning, final lectures and visitors from far lazily getting ready. Slow cleaning and a feeling as if emotions faded away. But the whole atmosphere was heated with a message that the organizers are waiting for 1000 (!) participant, which meant a great success. The lucky winner would get a foam Elvish sword that looked quite impressive, a pretty cool toy. And when a large group of people gathered with Piccolo champagne wondering how this person will look like, a father came with a little boy. For 3 days I haven't seen any child and suddenly prize goes to the most suitable person.

Summing up, I find Copernicon 2012 really successful, and for Copernicon 2013 I announce my obligatory presence. The convention is growing and the organization was at a really high level. There's still a lot to do to reach the large festivals' level but let's hope that soon Toruń will have as many visitors as Poznań or Warsaw. Contests and lecture topics are varied and that's what matters.

What should be mentioned is the atmosphere that hid all the minor flaws. Everyone who came met a lot of cool people and could play as much as they wanted. Outstanding guests. As a new participant but also a girl I wasn't bored and I'm waiting for the next edition.

Pages:
Newest comments: