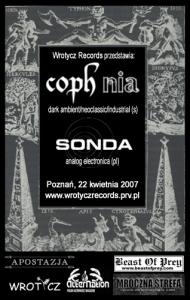 Reads: 5322 times
Galleries:
Last topics on forum:
On the 22nd of April, we had the chance to see another concert set brought to Poznan by the Wrotycz Records label.
With a slight delay,
Projekt Sonda
entered the stage at 7.40 pm - a group of ambitious people who decided to resign from using digital machines and computers, making their music using analogue machines. In my opinion, the result of this neckbreaking enterprise is very good to say the least. Although the performers haven't shown any dynamics towards the audience, as they were totally into using their equipment, the sounds themselves were full of life and energy. Someone during the gig said that Projekt Sonda plays electroambient - not really a good description, but let it be - at least the name is as unusual as the band.
I shall add that the material presented by the group has not been released yet, but has a temporary name - "Epicentrum". It was good to see them live, and I am willing to repeat that experience.
Coph Nia
is a Swedish band that needs no introduction to fans of Cold Meat Industry sounds. I personally knew what to expect, as I have seen them before at Wave Gotik Treffen. Still, they managed to surprise me - the band and its music have evolved significantly in the last few years.
Contrary to the WGT performance, where the band had only one "live" drum on stage, here we got a whole set of drums. And that's it! Coph Nia carried the whole audience (not too numerous) with their ethereal-industrial rhythm. Right, how is it possible that we get so little people coming to such great gigs of bands appearing in Poland for the first time? This phenomenon deserves a separate article... Getting back to the band - Coph Nia played nine tracks spanning their whole discography, and the audience managed to get them to play two encores.
The organizers helped to ask (or maybe forced - we did not know what they said to the band) the musicians to perform a third encore song - "Holy War", played for the second time that evening. For some unknown reason, the artists were really amazed that the fans want to hear the same track again.
Summing it all up, the band must have been more satisfied with the performance than the audience, the latter trying to get the former to play again for a few minutes after the final track... Well, all things end too quickly - let's hope that Coph Nia are going to come back pretty soon…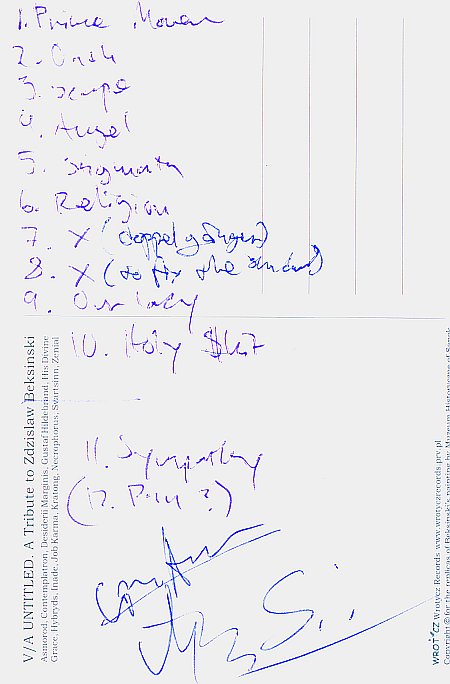 Other articles:
Newest comments: