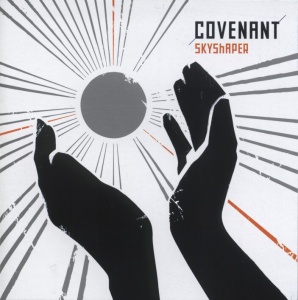 Reads: 4261 times
95%
Artist:
Galleries:
CDs catalogue:
Last topics on forum:
Based in Sweden Covenant are a future pop/ebm/synth pop and formed in the mid 80's and signed to 21st Circuitry Records. Due to release a new album soon I thought id take one of their older album releases and revel in the marvel of them as they are still going strong playing many festivals and still touring and Eskil Simonsson is quite often seen donning a suit live reminding people of their importance and prestige in the scene.
Ritual noise is a brilliant way to start off this album.with its awesome synths, it also has brilliant build up at the start to get you going. Its been written cleverly. I would most definitely dance to it at a club. It sets the tone for the rest of the album and boy does it get better. Pulse is one of my favourite songs on this release. Its very catchy, I cant help but dance to it when it comes on no matter where I am. Its fun and the lyrics are easy to pick up and sing along to and the synths add to it. A very note worth track.
Happy man is a very different track to the previous 2 with its bright, retro synths which give it a light kind of feel but the contradicting feel of the lyrics make it work very very well. Painting an image of a man that's trying to convince himself that everything will be OK and that he is a 'happy man' and it leaves a bitter sweet after taste in your mouth. Awesome song though.
The next track Brave New World gives you a sense of optimism with its bright very melodic and beautiful synths. A very stunning track which gives me goosebumps every time I listen to it. I love this song. just take a listen for yourself and you'll see what I mean.
The Men kicks in with the beat straight away and is my other favourite track on this album. very very catchy, very danceable, and again very easy to sing along to. Another track that gives me goose bumps every time and also paints a huge smile across my face. cant praise this song enough!
Sweet and salty is a bit of an odd track. it uses different synths and effects, which is good, but its a strange track. Its also definitely a stand alone track on the album but something puts me off it and I don't know what. How ever having said that it does set the mood for the darker Greater Than The Sun. The vocal effects are really effective and the different synths add to the ominous, eerie feel to it.
20hz makes you take notice and grabs your attention straight away. I love the bass line in this song and its very catchy. Definitely a danceable track and reminiscent of Depeche mode but with their own twist(same could possibly be said for pulse thinking about it). The same attention grabbing also goes for Spindrift. The beat kicks in straight away and the vocals are amazing. Development throughout is fantastic with an almost spiritual/tribal feel to it. That combined with the keys at the end make you think of a tribal funeral ritual where they believe in reincarnation or an eleborate afterlife. Its a very good song though.
They finish the album with the very stunning and lyrically beautiful The World Is Growing Loud. Its mellow and an awe inspiring chill out track.
This is a stunning album and a definitive must have for any ebm/synth pop/future pop fan. Itll have you dancing, singing and falling in love with it. Its very beautiful, diverse and lyrically amazing.
Tracklist:

01. Ritual Noise
02. Pulse
03. Happy Man
04. Brave New World
05. The Men
06. Sweet And Salty
07. Greater Then The Sun
08. 20hz
09. Spindrift
10. The world is growing loud
Other articles:
Newest comments: