Artist:
Galleries:
Archive: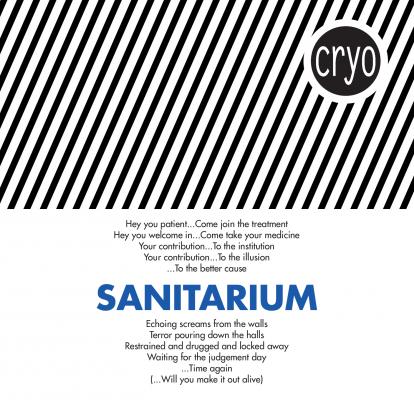 Cryo has for sure grown to become one of the biggest names in EBM/Electronic scene coming from Sweden. After several shows at all big festivals Wave Gotik Treffen, Amphi Festival, NCN Festival, Electronic Winter, E-Tropolis, Campus Noir Festival and many more they earlier this year released the first single "Control" taken from their upcoming album.

"Control" was top 10 on the DAC-Charts in Germany for 8 weeks and climbed top 5 on the GEWC Charts and the release almost totally sold out within weeks. With "Sanitarium" they are ready to totally blow away the dancefloors. It's a straight forward, hard EBM smasher still holding on to the specific Cryo-sound which has made them popular all over the world.

Remixes from Neuroticfish, Sebastian Komor, Xotox, Rotersand and Spark! among others. For sure one of the strongest EBM tracks to be unleashed 2018. This release is limited worldwide to 500 copies worldwide.
Available from 23 November 2018 by Progress Productions.
Tracklist:
01. Sanitarium (Original Version)
02. Sanitarium (Neuroticfish Remix)
03. Sanitarium (Guilt Trip Remix)
04. Sanitarium (Sebastian Komor Remix)
05. Sanitarium (Skylog Remix)
06. Sanitarium (Spark! Remix)
07. Sanitarium (Rotersand Remix)
08. Sanitarium (XOTOX Remix)
09. Sanitarium (Forgotten Sunrise Remix)
Author:
hellium
Source: Progress Productions / 2018-11-15 / News
Newest comments: