Decoded Feedback – DisKonnekt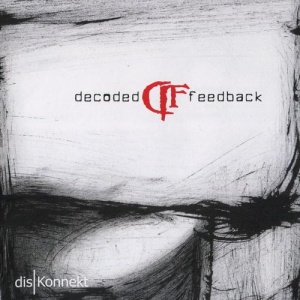 Reads: 2074 times
80%
Artist:
Galleries:
CDs catalogue:
Decoded Feedback is one of my favourite bands, even though I am a bit selective as far as their work is concerned. I perceive their style, described by the artists themselves as dark electro-industrial, as really moving, quite unique and one of its kind. In their music, I love the feeling of a vast space, melancholic tunes, dynamic yet a bit "grimy" beats, electronic darkness, haunted vocals. Moreover, from time to time they also happen to record intriguing covers, for example songs by Fields of the Nephilim or the Swans, which indicates that their own musical inspirations are broad and interesting.
I was quite stressed while I was waiting for their newest album
DisKonnekt
, since the band themselves claimed on their Facebook profile that it was going to be their best album so far. My experience shows that whenever any band claims something like this, it usually does not predict anything good, and for sure it does not predict the best album in the band's career ;) In case of DF my pessimism was also justified by the fact that the band has both recorded great albums which caused goose bumps on my skin, and made my soul soar together with music into a different time and space (
Shockwave, Aftermath
), as well as albums which made hardly any impression on me (f.e.
Combustion
).
So, what's the new album really like? Well – it is definitely not a bad album. It is, in fact, quite a good album, very well produced, with interesting music, quite varied. However, it does not resonate with my soul to such extent as my favourite albums and songs by DF do. I think I need some more time to sink deeper into this music. There are no songs on this CD that would enchant me immediately, as, in the past, songs like
Reflect in Silence, Do You See
or
Eternity Falls
did. The closest to these is melodic
Blood Red Moon
, which at the moment is my number one on this album, even though, obviously, there are more tracks deserving closer attention; both those more dynamic and aggressive, and, at the same time, darker ones (f.e.
Mescaline, NightTerror
), as well as the more melancholic ones (f.e.
I'm the Night
or, a bit untypical for DF
Heart of Stone
). I am not too convinced by the song featuring Claus Larsen from Leather Strip –
Soultaker
– for me there is too little sense of space in it, and too much atmosphere of horror rock'n'roll, but this is a matter of my personal preference only.
In general, this album is surely worth recommending and listening to characteristic for DF dark beats, keyboard tunes filled with anxiety and beauty, and the singing of Marco Biagotti, which, in songs like Blood Red Moon, makes me think of a dark romantic character torn inside, like Heathcliff from dark (and electronic) Wuthering Heights. And even if I am the only person who perceives this music in such a weird way, surely quite a few of these tracks would sound very well at a dark electro party in a club.
Tracklist:
01 Another Loss
02 Night Terror
03 Heart of Stone
04 Blood Red Moon
05 Dark Odyssey
06 Slaughter
07 It's You
08 I'm the Night
09 Mescaline
10 Soultaker feat. Claus Larsen
11 The Devil You Know
12 Blade Runner Tribute
Newest comments: