Depeche Mode - Tour Of The Universe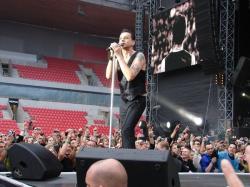 Reads: 7240 times
Artist:
Galleries:
Last topics on forum:
Prague, 25th June 2009
Even when I was a teenager during school's discos I was standing in a circle with a group of the "privileged ones" and we were stumping the Personal's rhythm... Depeche Mode have been near me for years – closer or further – but always. Some people hear trash, others – search for beauty. Depeche Mode have taught me that you need to feel the music... Could I remain indifferent to the fact that The Masters Themselves would be so close? NEVER
We arrived in the Prague Slavia stadium at about 6 p.m. Having occupied quite comfortable seats on the concrete slab near the stage, I was observing people delighted by the Depeche's talent and in a while the stadium became full. We constitued the huge platform created many years ago by "tempters" of the world-recognized black rose...
As the first one's on the stage appeared Mr.No and Bryan Black with the support – in other words MOTOR. They presented their techno-electronic material and finally they have dissapeared. To be honest, I missed Agressiva 69 which I felt like seeing in Warsaw. After having most of my senses MOTORized, the stage suddenly became dark and the only remainining item of the stage was a big mirror ball - rotating and filled with the smoke. The crowd was chanting: "Depeche Mode!" which has finally made the Amazing Three appeared on the stage an hour earlier than previously planned. Finally, it stopped raining as well...
This time Martin G. resigned from wearing a characteristic cap and distinguished himself by a silver jacket. Andy F. and Dave G. were in elegant, immortal black...
My curiosity of Dave's condition reached its apogee. I didn't knew what had I expected - That he would stand behind the mike calm, nicely combed and singing slow ballads on the playback with absolutely no fire?
I must admit I had underestimated the miracles of today's medicine. Dave "was born" on this stage and if it weren't for the May' concert in Warsaw which was cancelled, the vocalist's health problems would have seem as a premeditated gimmick. I remember the last heated discussion among my friends on "At what things are men better than women?." I have heard that, for instance, men are better cooks, fashion stylists and are more sensitive towards music, which allows them to achieve more in this field. Of coursssse, I thought. Yet, as far as stage performance is concerned, even an excellent fair sex creature is unable to beat the spectacular Gahan's dance with the microphone stand. I love the stage explosion of this man and it simply left me completely speechless, I would have to show it instead. Serious electronic frames, the change of rhythm - classic Depeche Mode absorbs entirely. Martin cannot write pop pap (glory be to him!) and due to his high level of proffesionalism Dave doesn't ever dabble with it...
The concert started with "In Chains", then I heard the first beats of "Wrong" and when we reached Martin's "Too Long…" line, which we all started to sing, I felt the lightness of being in my knees. Next there came "Hole To Feed", then "Walking In My Shoes" and "It's No Good" during which in the chorus part Dave has made a mistake, which made him laugh so much that on the big broadcast screens we could see his smile exposing what had happened.
During the third song Dave was performing in his "standard" black waistcoat. It became clearly visible that on the stage there was a really hot atmosphere – shiny sweat was pouring down the artists and also us - the audience. We, the Poles, had our white and red flags deading the others – the Czechs, Germans, Russians and some three or more other nations. Nobody published the guidebook entitled 'How to be a Depeche Fan" – this is just impossible to be learned from the book, this is a matter of having a thing... I cannot say anything wrong about solidarity. There were mugs with water going roud the audience, everyone could take maximum two sips, it was wonderful... (the international AH1N1 virus wasn't a problem at that time).
From the technical point of view, the concert was an absolute miracle, the sound system was fantastic, depending on the song the enormous broadcast screens displayed various meaningful visualisations, songs ranged from old ones like: "It's No Good", through "Strangelove", "World In My Eyes", "Enjoy The Silence", the awsome version of "Master And Servant" to kicksass new tunes like: "Wrong", "Peace", "Miles Away" – During the last one I realized I had no air nor voice as well... This was the moment when the Guru points out his finger to show that he needs our cooperation. We, the crowd of thirty thousand people, did everything we posiibly could to feel that our devotion is genuine and disinterested. The inscription from the wall says "DM Rules" and it has never become more meaningful as it has now. They have shown what they are up to. Martin has changed his guitars a few times, Andy was concentrated on drumming his fingers among his electronics and Dave - who had been always thinking that it is impossible to act reserved all the time did just exactly as he thought, he was... simply wonky.
Encore number 1 was "Stripped", "Master and Sevant" and "Strangelove"aforesaid, during which my nerves cracked and the wall of tears completely blurred my sight. To avoid imbalance the second encore was the song putting the audience back on their feet, 'Personal Jesus" and "Waiting For The Night". Cutting long story short, twenty two songs, two hours on the stage, I thank myself I could be there. It was completely worth it...
Very sophisticated and well mannered, at about 10 p.m. Dave kindly thanked for the great time we had together and the whole the story has ended, lights went off. Despite the earlier troubles, 'Tour Of The Universe' has the universe in its hands, that is for sure.
We had an after-party in our car on the way back home and as it has turned out, that we weren't the only ones... Each moment we were going past cars or even buses full of half-conscious and singing fans...
Czech, Pole, Aborigine – it doesn't matter. It's enough to say DM and we're at dome.
Other articles:
Newest comments: