Depeche Mode - Tour of the Universe (DVD+2CD Digipak)
Other CDs: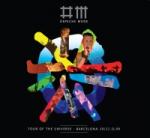 Depeche Mode
Add date: 2010-11-08
Label:
Mute
Tracklist:
01. In Chains
02. Wrong
03. Hole To Feed
04. Walking In My Shoes
05. It's No Good
06. A Question Of Time
07. Precious
08. Fly On The Windscreen
09. Jezebel
10. Home
11. Come Back
12. Policy Of Truth
13. In Your Room
14. I Feel You
15. Enjoy The Silence
16. Never Let Me Down Again
17. Dressed In Black
18. Stripped
19. Behind The Wheel
20. Personal Jesus
21. Waiting For The Night
Picture Format
Pal
Region Code
0 (all Regions)
Technical Information
Nb:- Pal = European Tv Format, Ntsc = Usa Tv Format, But Will Usually Play On European Players. Please Check The Compatibility Of Your Dvd Player With The Relevant Tv Format, As Well As Its Region Compatibility, Before Ordering Your Dvd. If You Have Any Doubts Then Please Email Us.