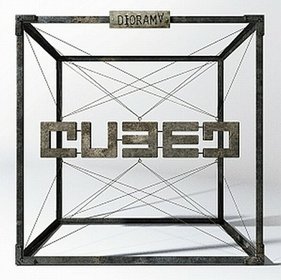 Reads: 4271 times
70%
Artist:
Galleries:
CDs catalogue:
Last topics on forum:
My adventure with Diorama began when I heard the song The Girls (from Amaroid's album) during the band's performance in Bolków, a few years ago. With a slight delay, but with a great joy I reached for the Cubed - CD released in 2008/2009.
The record does not differ from previous ones, there can be found both beautiful ballads as well as energetic, faster tracks to dance. This time, however, in my opinion, Diorama is more mature when it comes to texts, as well as having some interesting musical selection - it is more ear-catching. Increased maturity, or what? (Maybe in advance I will anticipate that I am unreformable Mickiewicz admirer and classical scholar of literature from the Romantic period, so I am passionately and persistently resorted to over-interpretation - for example, in my opinion, The Girls is a thinly disguised version of a nowadays Weltschmerz manifesto.) Thus, the Cubed from Diorama proved to be deeper, than the previous records, in treatment of issues concerning human condition and emotions that are hustling us.
The album will please equally already existing fans and those who will not despise music, that adds energy or relax with its ballad versions. Music with lyrics, which are worth considering.
After hearing the song Ignite, I want to take all my energy and break the walls of my cage. Oh and how enjoyable it is immediately to get up with the song buzzing in my head:)
CD came out in two editions - a white one and a black 2 record bonus.
Tracklist:
01. Child Of Entertainment
02. Acid Trip
03. Ignite
04. Gone Gone Gone
05. Cubed
06. Apocalypse Later
07. Record Deal
08. My Counterfeit
09. Refugee
10. Alpha Animal Complex
11. Golden Boy
12. Lord Of The Lies
13. Stereotype
Bonus CD:
01. Stuckkato
02. Batteries
03. The Hunt
04. Jericho Beach
05. Shadow Play
Other articles:
Newest comments: