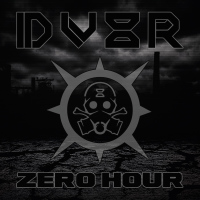 DV8R is a dynamic, hard hitting dark electro project from Seattle Washington. From early 2017 to current, the members of DV8R have unleashed their diverse musical experience to create their first single (static) and their full length album "Zero Hour". It is a perfect storm of hyper alien synths, stomp drums, haunting vocals and a post apocalyptic message.
DV8R are no strangers to the music scene. They have shared the stage with bands such as Front 242, VNV Nation, Assemblage 23, Killing Joke, Covenant and many more.

DV8R is passionate about generating high quality music, electrifying performances and an over all memorable experience. Crossing lines in the digital apocalypse with girding energetic rhythms and post-industrial soundscapes, DV8R is carving its way into the skull of dark electro fans...locked and loaded. The official debut album "Zero Hour" is produced by no one else then "Tom Lesczenski" of S.I.T.D. fame featuring four massive remixes by Aesthetic Perfection (Feat. Daniel on vocals), Faderhead, Imperative Recation and Assemblage 23 as bonus tracks. A must have for all fans of dark, hard hitting electronic beats!
Available from 18 May 2018 by Infacted Recordings.
Tracklist:
1.Static
2. Legion
3. Protocol
4. Rise
5. Compass
6. Idm
7. Fear
8. Renegade
9. Pulse
10. Stitch
11. Stitch (Aesthetic Perfection Remix)
12. Protocool (Faderhead Remix)
13. Compass (Imperative Reaction Remix)
14. Legion (Assemblage 23 Remix)
Author:
hellium
Source: Infacted Recordings / 2018-05-16 / News
Newest comments: