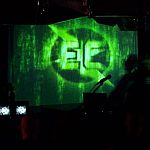 Reads: 6461 times
Artist:
Galleries:
Last topics on forum:
On 9th April we took the 2.20, fast train which provided a decent journey to Wrocław with a really minute delay of 80 minutes ... well.. Polish Rail :) After the arrival our group from Poznan split up and everyone went to do something like eat, drink etc. Anyway ... I was taken to the party by a lovely group of people from Wrocław. The club itself was rather small with a medium scene completely overburdened with the music equipment and some air conditioning pipes running under the ceiling. The poor light on the stage made me realize that I'll have to use flash, which I extremely don't like, very often. What's more, at 8.00 p.m. people were just starting to come to the club, hence the delay. But, well, at least I had a chance to talk to my friends then. Kr-lik and his project
Controlled-Collapse
started the concert. People didn't react vividly when they heard the music, but after several pieces some people appeared by the scene. I had a chance to see CC in Poznań during the second edition of Black Flames Festival and I must admit that they did better during FakOff Festival. Perhaps it was caused by the fact , that during FakOff CC played longer and they sounded better ( kr-lik's voice was audible - although still too little ). Generally speaking, one may say we had a good Polish representative.
Terrorfakt
. I was blown from the ground, I wasn't able to hold my camera. If I could I would throw all the equipment away and go nearer to the scene. The duet from the USA made the blood boil and the glasses with beer fall from the tables (authentic!!!). Their visualizations stupefied the audience ; some people stopped dancing and stared at the screen. In my opinion the noise formation Terrorfakt did better than the star of the evening E-Craft, they presented more differentiated repertoire. I pitied there wasn't bis at the end.
E-Craft
was awaited by many people and for the fact they were a main star of the evening once they started playing many people appeared by the scene. One hour show and two bis is a good result. Music supplemented with visualizations produced to accompany the music live and dynamic songs forced almost every person in the club to at least move his head to the rhythm. The German trio did their best, but as for me they were a bit monotonous. But it's only my opinion, the rest of the audience was delighted. After all, if it wasn't for the audience, there wouldn't have been 2 bis. Generally speaking, I find the festival very fine. However, the attendance could have been higher. Those who weren't there should regret. I'll see the fragments of the festival on video with pleasure.
Other articles:
Newest comments: