FrightDoll - Reference Version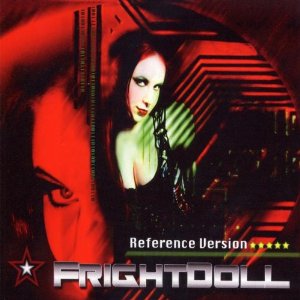 Reads: 3701 times
10%
Artist:
Galleries:
CDs catalogue:
Last topics on forum:
Evening, one of many. A sudden inflow of inspiration and desire to write something "creative". The "Reference Visions" disc maded by lady hiding under the pseudonym Ms. FrightDoll " fell into my hands. The cover shows "artist" wrapped in black latex on black and red background - typical.
While the first approach (the second, third and tenth as well) CD flew through play, even when you do not know - the total time is 38 minutes 14 seconds, closed in 11 tracks. Apparently there is something, but no. Few track is able to wake up from the lethargy in which sets pseudo-dark creation like many others.
Personally, I can not find a comparison to the work of Ms. FD. The whole deal of courage and honesty can call it a dark blah-blah enriched with repetitive plop-plop and the wailing woman who tries at all costs to show how much dark, gothic and sexy she is.
All the songs have an almost identical line of percussion focusing on individual beats. This procedure may at first seem exciting to the layman, but the after n-th hearing this is just starting to annoy. Here and there you can hear the track modeled to the lines of the melody based on keyboards and bass, but not enough that it not aligns with the background beat, it is annoyingly drilling on top of the head.
I do not know what was wanted to achieve by this "artist". Some tracks lead for the umpteenth time, even as peaceful man like me, but the song "Unit" should appeal to fans of beeping music from well-known console - GameBoy.
I can not remember the last time any record aroused in me so many negative emotions. Unsuccessful attempts to create a dark trance cause agonal spasms. Unfortunately, on the market appears more and more similar artists- do not know what to make, so take the first music program better and throw random hackneyed samples. FrighDoll saves only the fact that it's quite an old album. Although, when i experience the present works of Ms.FrightDoll hope were gone.
I rarely definitively reject any CD, but unfortunately this time i have to. With all my heart I would not recommend this LP. But I admire the "artist" for stubbornness in creating such crap.
Tracklist:

01. Automated
02. Sessions of Expression
03. Tension
04. Questions
05. Marionette
06. Unit
07. Neutrino Glaze
08. Gravity
09. Crash
10. Version
11. Strange
Other articles:
Newest comments: