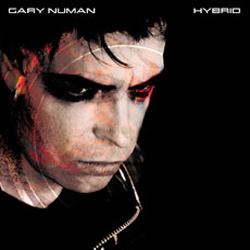 Reads: 4799 times
70%
Artist:
CDs catalogue:
Numan's industrial trilogy - "Sacrifice", "Exile" and "Pure" – has shown how good the artist feels in his new style and restored him to grace. Thus Gary decided to release a double CD album-hybrid, which contains remixes of his latest works, as well as new, darker and completely rearranged versions of his older songs. In overall we will find eight tracks of two categories mentioned above and three brand new tracks on those two CDs. At first, let's focus on them. The title track "Hybrid" is just a harder, scratched version of the title track from "Pure". The single hit "Crazier" is something like "Cars" with guitars instead of synthesizers. Undoubtedly, the best track from those new ones is the opening song from the second CD: "Ancients" with an orchestral intro, rising tension and a really nice atmosphere. As for remixes – the best are new versions of tracks from the "Exile". "Dark" has some new ambient sound, "Dominion Day" is more keyboards-oriented and "Absolution" is even more sad and melancholic. The "Pure" ones, like "Torn" or "Rip", are merely average, not to mention completely damaged "Listen To My Voice", where some dude is rapping "It'll send dark angels for ya'", or fully stripped from emotions and changed into a shallow techno "A Prayer For The Unborn". Numan's classics were completely rearranged. There's no synthesizer space in "Cars" anymore – now there's an industrial claustrophobia. Both versions of "Down In The Park" are just softer and modernized extensions to the original. "Are Friends Electric?" has gained some new taste with barely changed melody and redesigned vocals. Actually I think those tracks are the most expressive on this compilation – they were slightly modernized to current sound trends, but desecrating the holiness was avoided. "Hybrid" is a very interesting album, not without blunders, but worth attention.
Tracklist:
CD 1:
1. Hybrid
2. Dark
3. Crazier
4. Bleed
5. Torn
6. Down in the Park
7. Everyday I Die
8. Absolution
9. Cars
CD 2:
1. Ancients
2. Dominion Day
3. A Prayer for the Unborn
4. Me! I Disconnect from You
5. Listen to My Voice
6. Rip
7. This Wreckage
8. Are Friends Electric?
9. M.E.
10. Down in the Park 
Other articles:
Newest comments: