Gothic meets Klassik 2013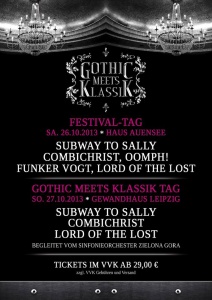 Reads: 5773 times
Artist:
Galleries:
Last topics on forum:
The second edition of the
Gothic meets Klassik festival
was held in Leipzig on 26-27 October 2013. On the first day, in standard club conditions, were successively presented to fans musicians from
Lord of The Lost
,
Funker Vogt
,
OOMPH!, Combichrist
and
Subway to Sally
. In principle the only drawback I noted was the sequence of planned concerts - after warming rock show of
Lord Of The Lost
played
Funker Vogt
that seemed to be ruthlessly pulling one song for whole time, and the idea of making a headline from folk-rock band
Subway to Sally
, just after the deadly show of
Combichrist
, must have fallen into a head of the true devil itself. Anyway, thanks to that operation, I left the Haus Auensee during the last concert, and number of people who were hunting with me for a taxi was considerable. Some people had a tough nut to crack, when into the car, to amazement of taxi driver, they had to pack... a gift drum given by
Combichrist
.
On Sunday evening the festival participants met again - this time at the Leipzig' Gewandhaus. As befits to the place all (well, almost) came in full dress suit, elegant creations, which certainly did not lack the gothic-rock finesse. From long, trailing gowns, through lace miracles to tight corsets, from heels to heavy wedges, from suits to cargo pants – from the very entrance everyone felt very special. After greeting with encountered colleagues and drinking glass of a dry wine I took my seat on the balcony.
Room was filled, lights were dimmed. On the scene appeared
Symphony Orchestra
from Zielona Góra under direction of Czesław Grabowski, and just after them the first Sunday band -
Lord Of The Lost
. Musicians from Hamburg did not experiment with harsh repertoire - to their symphonic set they had chosen atmospheric tracks, melodic and ballads. In opening the concert "Prison", perfect for such an arrangement, frontman Chris Harms played on the cello, like in the song "Never let you go", where musicians were accompanied additionally by Ulrike Goldmann (Blutengel). Whole was ended by "Credo", which in that version sounded really monumental. The first standing ovation of the evening, it was clear that both musicians and audience were really touched, some of them were wiping the tricky tears from eyes corners.
After a short break orchestra returned to the stage, and with them exceptionally elegant on that day Andy La Plegua. As some might say – impossible became the fact. Hard electronics met symphony orchestra, and fruits of this love affair we were to hear in a moment. Andy, along with armed with an acoustic guitar Abbey Nex (the only one who did not give up that night to be wearing stylish shoes) started significantly with "Feed the Fire", then there were the "Bottle of Pain" and "Through the Eyes of Pain" - music created for game or soundtrack purposes worked well in orchestral arrangements, like the ballad from "making monsters", but that it was not, what fans have been most waiting for that evening. The climax came when on the stage appeared Joey with the drums and Z- marr with keyboards. Abbey changed acoustic guitar to electric one and... it began. "Deathbed", "Follow the Trail of Blood", "No Redemption" and the final "What the f.. k is wrong with you people" have met all expectations of the audience. Musicians left the stage with ovation as a bid farewell, and it was difficult for me not to giggle, when Joey was gently giving to people in the front row drum-sticks – as a souvenir (usually from the Joey's low flying sticks you can sometimes lose your teeth...)
The third act of the evening was concert of
Subway to Sally,
who also teamed up with orchestra perfectly, and I was listening with more pleasure than those few pieces I persevered on the previous day. Fans please forgive my ignorance of their repertoire, but I confess that it seemed perfect, to be played in such setting. Singer Eric Fish was talkative, at some point jokingly took over a baton from the conductor, to tap with it significantly to announce the beginning of next track. Fans also decided to be visible, so during one of the ballads in hands of the audience there were dozens of... chemical fluorescent lights. Well, on that night at the Philharmonic were going on uncommon things, and nobody wanted to tease the fire alarm with lighters. In the final on stage appeared all musicians who played on that day,
Subway to Sally
made an encore with "Eisblumen" track, then all once again thanked the orchestra, the conductor and gathered audience.
Behind the scenes you could met musicians from
Lord of the Lost
and
Combichrist
chatting with fans, still very excited about the concert. No wonder - it was really special event, absolutely unforgettable.
Next edition of the festival will be held on 1-2 November 2014, and the first confirmed band is
Mono Inc.
I would heartily recommend it to all, it is worth it.
Other articles:
Newest comments: