Grausame Töchter - Engel im Rausch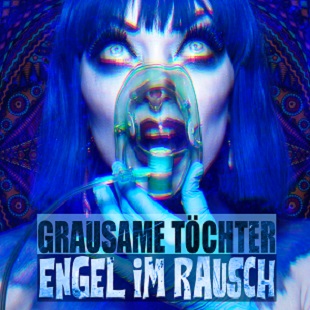 With their fifth album "Engel im Rausch" (Intoxicated Angel) (Release date: 26.10.18 - Scanner / Dark Dimensions Label Group) Grausame Töchter continue their steady development.

On "Engel im Rausch" you get drawn into a story about an intoxicated night, in which you get seduced by singer Aranea Peel (on the opening track Engel im Rausch), and where you find yourself waking up the next morning to bright sunrays, with the last song "Helle Sonne".

The other songs therebetween narrate aspects from an ecstatic and at times psychedelic night, always leaving it open, whether the various metaphors - mostly dealing with heaven and the universe – are to stand for Love, Drugs, Sex… or something completely different?

With many lyrics, it only becomes clear at a second or third glance that everything is more complex in terms of content and more in-depth than it seems first. And musically speaking, the act proves once again to be very open and varied: Sometimes orchestral-pathetic, sometimes in good old dark wave tradition, their sound gets enriched also by elements from electropunk, EBM or TripHop!

For the first time Grausame Töchter have included three cover-versions on an album:

The "Neue Deutsche Welle"-classics "Goldener Reiter" [Joachim Witt] and "Rosemarie" [Hubert Kah] – but also a brand new cover of one of their own songs: "Beleidigte Engel" from their first album.

"Engel im Rausch" will also be released as limited 2CD edition with a 14-Tracks bonus album, feat. remixes by such acclaimed names as And One, Suicide Commando, Centhron - among others.

Grausame Töchter stand out as one of the most innovative bands of their genre: Creative, intelligent, and also a "tiny bit" provocative!
Available from 26 October 2018 by Dark Dimensions.
Tracklist:
01 - Engel im Rausch
02 - Wildes Tier
03 - Engel im Himmel
04 - Goldener Reiter
05 - Annika in Ekstase
06 -. ..und ich fühle nichts
07 - Atme mich
08 - Fickmaschine
09 - Rosemarie
10 - Lila Katzen
11 - Sternenmädchen
12 - Beleidigte Engel 2020
13 - In deinem Kopf
14 - Wie eine Zecke
15 - Sex in Deutschland
16 - Nein!
17 - Wodka-Polka
18 - Helle Sonne
Author:
hellium
Source: Dark Dimensions / 2018-10-08 / News
Newest comments: