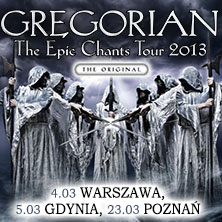 Reads: 1837 times
Is it possible to go to one concert and to hear the hits of such stars as Led Zeppelin, Rammstein, Queen, Leonard Cohen, Evanescence and U2? Of course, if we attend to the concert of German choir Gregorian. If, additionally, we like to observe amazing lightshow together with a little bit of pirotechnics and visualizations, we shouldn't miss their show.
The formation has come to Poland for three concerts promoting their new album "Epic Chants" this year. Looking like "monks" musicians proved that choral chants don't have to be boring for the audience (especially for those like me, who are used to heavier sounds) and thanks to suitable scoring, lightning, choreography and funny announcing it is possible to create Show written with capital letter 'S'.
The plot of this Show was film music - bull's eye, as this theme is sure-fire hit. The band was accompanied by string (only ladies) and rhythm (gentlemen) sections. What is more, Germans enriched the concert with movies scenes with main characters played... by themselves. And so we could watch them as mafia bosses from 'The Godfather', Jack Nicholson in 'The Shining' and - what almost made the audience falling from the seats - Jack and Rose at the famous scene on Titanic's stern. Beside male voices we heard more delicate female vocals also - i.a. during cover of "Engel" by Rammstein or absolutely genious scoring of Led Zeppelin's "Kashmir". I can bet that a view of singing ladies wearing skimpy clothes (with their shapes extremely 'no opera' like) made a heart of more than one man beating faster.
Gregorian version of "Hallelujah" gave me the shivers when their appeared, unexpectedly, among the audience. I was also delighted with the result of lightning producers and pyrotechnists' work - they definitely created the show on the highest level, that was viewed with open mouth - verve of the show was emphasized by the lights, lasers, mirrors, confetti, streamers, flames and sparks.
When at the end of the show singers proved that it is possible to dance cancan without any problems while being dressed like monk, they were awarded by the audience of three thousand people, well-deserved, standing ovation,
A few minutes after the end of the concert the musicians appeared at a backstage to meet with fans waiting for autographs.
It was my first concert of Gregorian, but I feel that not the last one. Personally, I recommend everyone to go for their concert and try more alternative versions of well-known songs, it's really worth.
Newest comments: