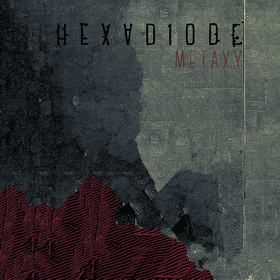 Formed in 2014 and hailing from the bleak, industrial, abandoned factory city of Dayton Ohio in the Midwest of The USA, Hexadiode delivers a creative burst of energy amongst the drab landscape from which they were born. A hardware only Electro-Industrial dance act that dabbles in Art Damage experimental tendencies, Hexadiode are committed to producing an old school EBM dynamic with a forward thinking, 21st century approach.

Members Tim Krug and Jonas Miseh create tracks that are melodically infectious and rich in hooks, while still staying true to the artistic and experimental edges that keep the genre of dark electronica moving forward. Hexadiode is influenced by acts such as Front 242, Nitzer Ebb, Skinny Puppy and NIN, as well as enigmatic, cross genre electronic acts such as Liars, Brian Eno and Aphex Twin.
Available from 20 September 2019 by EK Product.
Tracklist:
01. Distraction
02. Impulse Matrix
03. Markov Chain
04. Invariant
05. Brain in 3
06. 6th Dialect
07. Parasitic Static
08. Extreme Unction
09. Metaxy
10. 13 of 12
11. Parasitic Static (reCalculated by Guilt Trip)
12. Brain in 3 (Blush Response Remix)
Author:
hellium
Source: EK Product / 2019-09-18 / News
Newest comments: