Hexvessel - When We Are Death Tour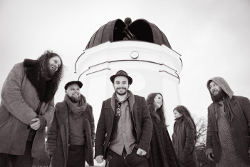 Reads: 2387 times
Galleries:
On 29th March, at the Poznan's scene in Pod Minogą club, took place an extraordinary concert of the Finnish band Hexvessel.

As a support played Swedish New Keepers of the Water Towers, who introduced to their "kosmische rock" as they name own sound. This group composes of: Rasmus Booberg, Tor Sjoden, Victor Berg, Björn Andersson and Adam Forsgren, and gave a special show of their undeniable musical talent in mixing tones coming from different genres. Characteristic to them is that their sound cannot be defined, no matter how hard you try to.
Only thing that is certain, when it comes to their playing, is that the band derives inspirations from the music of the 70's, taking the best of psychedelia and progressive rock, at the same time adding flavors to their explosive mixture of sounds to the modern guitar reverberations, using also traditional instruments in own works. The group presented an unique set of their best songs, giving the opportunity to participate in this unusual musical feast only by less than 40 minutes. Definitely it was not enough!
New Keepers of the Water Towers played hard, fast and extremely rhythmically. The whole brought to mind a speeding train, which during each of the track took on strength, power, and greater momentum. Incredible journey through the ritual sounds, atmosphere, emphasized by the expressive instruments, and all played live!

After such a successful beginning, came time for the Hexvessel.
Musicians from this formation play fully emotional psychedelic folk-rock, which allowed them to gather a lot of fans. The band recently released their fourth full-length album - "When We Are Death", by Century Media. Thanks to the tour promoting this album, you could hear live the tracks that are dealing with constant cycle of life and death. In nature nothing is lost, can only change its form. These metaphysical considerations were accompanying audience throughout that evening.
And during the concert the band played most of the songs from their latest album. Gathered fans were moved the most by "Cosmic Truth." But every track that was played was given a very warm reception.
Vocalist sang each time with a different timbre of voice. Extremely impressive were also musicians performances, as well as skillful combination of psychedelic sounds with classical, folk melodies. Classical guitars were blending with progressive, sometimes even cosmic sound.
A great live performance made by Mat McNerney, Marja Konttinen, Jukka Rämänen, Simo Kuosmanen, Niini Rossi and Kimmo Helén.

This magical evening will remain for a long time in my memory.






Newest comments: