Industrial Fallout: Lazarus Syndrome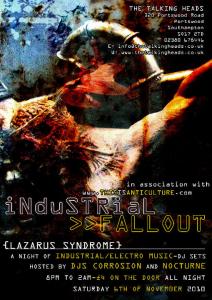 Reads: 2485 times
Talking Heads usually plays host to live music but every few months it plays host to Industrial Fallout. IF as its known to its guests has been going for over a year now and is slowly gathering pace and with it fans. This event brings people from all over the surrounding areas and some times further together for one night with reasonable priced drinks and opportunities to meet new people.
From 8-9 is what is known as the prolapse hour due to the audio assault of noise and power noise that kicks off the night in style. Here you get some of the big names being played such as SAM, Manufactura, WASTE, Phosgore, Caustic and various other noise hard hitters being played for all over those that like it a bit more gritty and harsh then others. It was brilliant top see people dancing from the beginning and throughout the prolapse hour and continuing throughout the night as it quickly started to fill up.
The rest of the night continues with a mix of Nocturne and Corrosion hosting a mix of EBM, industrial, a little bit more noise. This night had special guest VJ Visualante who provided us with brilliant, disturbing and beautiful images molded together with brilliant beats. Some brilliant songs were played and Memmaker and [X-RX] brought back some fantastic memories from infest.
To make things a little more interesting, also admitedly a little bit of promotion for fallout and myself, i thought i decided to go round asking people to give me 3 words to describe this event with some interesting results. Harriet Greggory chose 'Cyber electric mayhem' and Kyle Phillips said 'Loud bouncy and awesome'. More later, time to dance! When i re-enter the room im glad to see more people dancing.and a few more people have come too including a few new friends i made at aforementioned and reviewed Sinistry. At 11 people are feeling brave enough to don the stage to get their stomp on up there which is always brilliant fun reflected by how many people get up there to dance as well as on the dance floor. Half 11 and the Jagermeister girls(and lad) arrive giving away free Jagermeister goodies like leis and flashing badges, then afterwards test tube Jager shots helping add to the atmosphere.
By 1245 my feet are killing from dancing and running round asking people for their words but its definitely been fun so far and theres still and over an hour to go. Beci Starr decalred fallout as 'Awesome, massive and cool' its even been described as 'only decent night in Southmapton' by Azadeh Safaei or even 'Random, colourful and post industrial fetishism' by James Richardson-Brown. For the last hour Nocturne keeps as dancing even though were all tired, sweaty but we're loving every second of it!
Over all it is definately a fantastic night out with lots of lovely people. A brilliant opportunity to meet new people as well as seeing old friends. The dj's (and in this case VJ) have a brilliant time as well which gets projected onto everyone else that helps make the night better. If you like noise, industrial EBM, this nights got it all, whether your cyber goth, cyber punk or rivethead this night has got something you will love. If your in the area or even from near by this is a night you should definitely be getting to as they keep getting bigger and bigger.
More quotes from the night:
Matt Simpson - 'Antidisestablishment, anticulture, escape'
Amber Hart - 'Exciting, awesome, dancing'
Dan Hawkes(Nocturne) - 'Come here early'
Pitch Noir - 'Tits ass pussy'
Other articles:
Newest comments: