Intent:Outtake - Days of Doom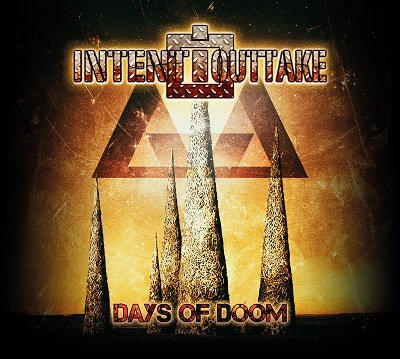 Here comes the fourth studio album "Days of Doom" by the Leipzig based electro band Intent:Outtake. "Days of Doom" contains 11 catchy electro tunes that prove how much this band has advanced. Powerful dancefloor rhythms meet vivid and insistent mid-tempo songs- an unparalleled experience.

On board this powerful vehicle is - among others- Gerrit Thomas, known from his bands FUNKER VOGT and EISFABRIK, and responsible for the fine tuning and mastering of the sound.

"Days of Doom" also contains several versions of the single "Auf Ewigkeit" recorded with guest vocals by Chris L. (Agonoize + Funker Vogt).

"We kill the silence" is the battle cry of the band and in this case Nomen est omen.
"Days of Doom" will certainly take the club scene by storm!
"Days of Doom" comes as a limited first release with a 7 Track Bonus CD containing remixes by SITD and Cephalgy.

Intent:Outtake will also tour through 13 German cities with Eisfabrik this autumn. Start of the tour is November 22, 2019 in Hannover.
Available from 22 November 2019 by Dark Dimensions.
Tracklist:
CD 1:
1.Das letzte Geleit
2.Endtime Prophets
3.Paved
4.Das elfte Gebot
5.Friss oder stirb
6.Out of Decay
7.Auf Ewigkeit (Album Edit) (Feat. Chris L. - Agonoize / Funker Vogt)
8.Der Mann im Spiegel
9.Singularity
10.Du
11.Every End has a Start (Album Edit) (Feat. Chris L. - Agonoize / Funker Vogt)
CD 2:
1.Stumm
2.Zombie Nation
3.Viel zu spät
4.Endtime Prophets (Extended Version)
5.Es ist Krieg (SITD RMX)
6.Auf Ewigkeit (Novastorm Remix)(Feat. Chris L. - Agonoize / Funker Vogt)
7.Es ist Krieg (Cephalgy Remix)
Author:
hellium
Source: Dark Dimensions / 2019-11-12 / News
Newest comments: