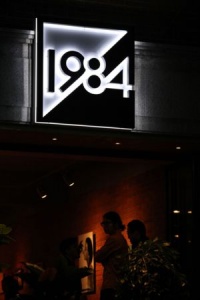 Reads: 4141 times
Galleries:
Last topics on forum:
Is it true that the legendary band 1984 is back again? After a few years of silence they appear in the media, they are played in the radio stations and the internet is full of the voices speaking about 'big comeback'. Is it true?

In January the band gave a concert in the club "U Bazyla" in Poznań presenting a few pieces from new material. The audience reacted extremely positively. So is there any chance for an album? Will the band start performing again?

The band 1984 was founded in Rzeszów i exactly that year by Piotr "Mizerny" Liszcz and Krzysztof "Bufet" Bary. Throughout the years the members were changing. In different combinations Mizerny was accompanied mostly by musicians from Rzeszów's scene: Krzysiek Bufet Bara, Wojtek Pancerny Trześniowski, Leszek Cielak, Janusz Gajewski, Roman Smutny Rzucidło, Paweł Czester Tauter, Maciek Miernik, Darek Czarny Marszałek, Marek Kisiel, Grzesiek Wesołowski, Ziemiowit Nyzio and Andrzej Paprot.
Among the most famous songs by 1984 are: Sztuczne oddychanie, Specjalny rodzaj kontrastu, Tu nie będzie rewolucji, Radio niebieskie oczy Heleny or Dla kogo pracujesz?.
Currently 1984 are Piotr Liszcz and Robert Tuta. They met in 2006 and almost immediately created the album "4891". Piotr Liszcz creates music and lyrics, he is the vocalist and guitarist as well as indispensable symbol of 1984. He also takes part in the project "Wańka Wstańka & The Ludojades". Robert Tuta apart from 1984 plays also in the bands such as: NOT, Agressiva 69 and Bielas i Marynarze. He also runs music club "Dom" in Łódź.

Frequent changes of the members, the loss of the material from the album "Specjalny rodzaj kontrastu" or cancelling the big event, namely the band's birthday concert "18 years of love and hate" makes the band often considered as unlucky. We asked Piotr Liszcz if the band is really haunted by the bad luck

- I don't know how to call it. Lack of luck? Maybe – it depends on the approach. Maybe if we hadn't experienced all those rotations and changes, which we by the way provoked themselves, the 84 as a band wouldn't be as it is today. It is as it is and I think it's good. Our releases indeed weren't frequent and we don't have a lot of them because of different reasons. I could tell about it much more, but I've heard and read so many trivial speeches about so called rock'n'roll style of life... we have never been rock'n'roll band as such. Existence wasn't easy for us too and the musicians playing in the band weren't disciplined and emotionally stable people which paradoxically in the music was oscillating towards the other side. However, despite difficulties, throughout almost 30 years I think that we have managed to save face as 1984 band. How does it look like today? From my point of view just as it should.


Piotr, is it true that you are working on a new album and the great concert in Poznań was an announcement of the new history of the band?

- The announcement of the new history – yes, surely. It was our first concert during which we had decided to play some completely new tracks. Was the concert great? The audience was great (greetings for you). We had six year long break when it comes to full length release. However, the album "4891" resulted in, maybe not so numerous but still, some concerts and during these six years we were in some places and played there. The time for a new album has come and it will be the effect of all those emotions, experiences and inspirations we encountered together. And there happened quite a lot. It is true then that we are working on new material. We are specifying details. We have got a lot of people around us who approach what we are doing as a band with the same love and enthusiasm. Surely we will appear with some new stuff soon. Apart from the two of us you will hear our friends, more or less known but at this point it is still a secret which I'm not going to reveal. You will surely hear.

- I wouldn't call it the big come back – says Robert Tuta – 1984 exists all the time. Once we play more concerts, the other time less, but it is still. Unfortunately this is the feature of alternative scene in Poland. You release an album and then you go with it around the country. Now we are working on a new album and I hope we will be more famous again. Surely the concert in Poznań opened some new possibilities thanks to the premiere of those tracks. People there were very positive about them and this is important.

Gentlemen, so what is next? What is going to happen?

- There will be smoke! – Robert laughs. – this is the title of one of our favourite tracks. Will it be included in the new album? I don't know yet but I like to think about it this way. There will be no revolution but there will be smoke.

- There are plans. We have a new manager and she fights. We are fighting in the studio and we will see what happens. Surely we can invite you for a concert in Dom club in Łódź on 24th of May and a day after that in Warsow CDQ and in September for an amazing event which is Festival Fugazi in Warsow. We are going to play there. And visit also our Facebook profile, we tried this not so long ago but we are getting used to it and it works quite actively.

Is there any chance that you will play new material during these concerts in May?

- Maybe...

Pages:
Other articles:
Newest comments: