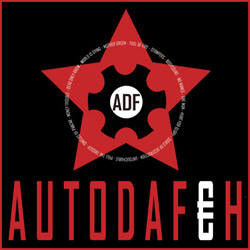 Reads: 4340 times
Artist:
Galleries:
CDs catalogue:
Lucy talked to the three guys of Autodafeh about their latest release, RE:LECTRO and the band's background...Feel free to use!
Hi guys, how are you?
Always fine, thank you!
How have you three met and decided to form a band?
The story began in late 2007 when Jesper and Mika met again after 16 years or something.. Jesper and Mika started to talk about forming a classical EBM-band with a new twist. Mika was already working with Anders in another musical project and Mika asked Anders if he wanted to join, and he did, and thats how we formed AUTODAFEH (ADF).
What does the name Autodafeh stand for?
It's a good name! An auto de fé was the ritual of public penance of condemned heretics and apostates that took place when the Spanish Inquisition or the Portuguese Inquisition had decided their punishment (that is, after the trial). Auto de fé in medieval Spanish (and in Portuguese) means "act of faith". And offcourse it's inspired by SPK's album Auto Da Fe, we added the h.
Who are your idols and how much got you influenced by them in your own music?
Front 242, Nitzer Ebb, I guess we could say we're a fair bit influenced.
How do you work together in the studio? Who is responsible for what inside of the band?
And what equipment do you prefer to use?
We work together all three of us in the studio, we're all responsable and everyone has an input to our music. We use hardware and software when we work.
How does a typical Autodafeh song is given birth to?
We often start with a good beat or a good baseline, then we add some sounds and then we work together to fit the lyrics.
Who writes your lyrics?
Jesper writes most of the lyrics, Mika and Anders also have some input on this.
What is the concept of Autodafeh's music and what do you want to express or give to the audience and the world?
We want to give the listener a great expirience and a good vibe.
What do you think is your role as musician nowadays?
To present a well packaged product.
How did you meet your label Sigsaly Transmissions?
Marc the owner of Sigsaly, discovered us via Myspace.
You have released your debut album "Hunt for Glory" last year. How did you preceive the resonance to it? Did your hunt become successful in your opinion?
Very much so, we have had a great experience and we hope the listeners got that as well.
You have even achieved to enter the German Alternative Charts. What do you think why you been so successful even in that particular field?

Maybe we were in the right place at the right moment.
You have played with Front242 after your debut. What did you experience on the shows with them?
We learned a lot, both in watching them live and talking to them. It was very nerve racking to play support to Front 242, I mean, they have been our mentors.
There is the EP "re:lectro" coming our way. What can you tell us about the concept of the release and the name it bears?
We wanted to pay our respect to the old school era and, that's why the album is called Re:lectro.
Can you describe the tracks in your own words to let us know your intention behind them?
This is a really hard question to answer, we hope that the listener will get their own images and feelings. Music is not that easy to pin point. We can have one feeling, but the next person can have a completely different feeling.
What is your favorite track on the EP and why?
We can't pick one, we like all the tracks on the EP.
What do you guys do besides music? Do you have a daytime-job or other hobbies you want to talk about?
We all have daytime jobs, all our spare time is dedicated to the music and our families.

You have a second album. can you disclose some more info about that?
It will be a great album, with a few surprises to be announced later!
And what are your further plans for the rest of the year or even next year?
To be able to perform and make music a lot, and
hopefully there's a crowd out there to enjoy it.

Thanks for the interview and we wish you much success on all your further paths of musical career!
Thank you and keep it up, keep it clean and take care of the EBM-scene!
Other articles:
Newest comments: