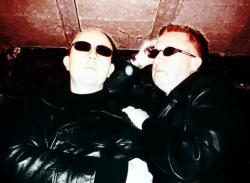 Reads: 2806 times
Artist:
CDs catalogue:
Hi K-bereit!thanks for taking your time to do the interview with us. Many of us know you from the past two decades but maybe this is not so apparent. So can you remind us on what K-Bereit is all about and where it comes from?Dom:
Hi Leo, thanks for the interview. K-Bereit is a mix between my two first bands Kriegbereit and Cobalt 60. So we did the same for the name. We could call it K-Bereit60 ;-)
You have been in a long silence after the last Cobalt 60 release – what was the reason for it and what the reason to return?Dom:
I never stop the music. But, I waited the good time and the right people to begin a new project. It was time in 2002 with Fred. It took a long time to find label, but the music was ready in 2004.
Who is working with you know and how do you work together?Dom:
Fred and I work together. I'm programming and he's deprogramming. He founds sequences and loops, well I make noise and rhythms:-D. He is the Ying and i'm the Yang.
Fred:
Dom has just a particular method of work. He's playing with the sequencers like you play with TETRIS! The drum pattern you made at the moment can be a new break in the track ten seconds later! I love this kind of work!
You are know signed to Sigsaly Transmission from Texas. How did you find that partner for your releases as this seems to be a long transcontinental walk!?Dom:
We met Marc, the owner of the label, on the net, on a forum about Electro and EBM. We had long talk about many things, life, music of course, BBQ (private joke for Marc), and we became friend with the net. Marc likes our music, he had the project of creating a label. So, when he was ready for creating Sigsaly he asked us if we would like to be on his Label. Of course, it was a big YES, because Marc is really a nice guy and he knows what he wants for it..
Fred:
Marc is doing a really great job! Sigsaly can be a major partner for many bands in the future!
The sound of the new K-Bereit reminds me a lot of the old 80s Belgium EBM-connection. And your pressinfo nails it down to the point: EBM done the French way. What is the secret behind that remarkable sound?Dom:
We do the music and the sounds we would like to hear. We don't want to be a clone of. Some could say our music sounds old. I say probably. We want to work with instinct and few hardware. Always doing the maximum with the minimum.
Fred:
In fact, today, everybody wants to have the most powerful sound... But the songs are poor! When you listen to the first 20 seconds, you EXACTLY know what it will happen the next five minutes! Our way is totally different. To amaze at each time!
Is K-Bereit meant to be a direct sequel of Kriegbereit of the 80s as the name implies?Dom:
Absolutly as I said before. K-Bereit is a mix of the industrial sounds of Kriegbereit and the melodies and structures of Cobalt60.
Fred:
When you work with Dom, you can feel these old souvenirs...
Can you describe your sound with some words?Dom:
Powerful, agressive and danceable.
Fred:
Unbending, untidy, but universal.
What is the message behind your aggressive lyrics and powerful music?Dom:
No particular message. Only words about dark side of the life. We don't speak about love, birds and fun.
Fred:
We're tired of hypocrisy.
What do you perceive as a "Distort Neural Unit"? Is there a concept behind the album as a unity?

Dom:
We tried to find words to discribe our music. Distort for Distortion. Neural means something human and could be negative if we thought about people who are silly or have psychological problems. And Unit like a commando, a team or a squad.

Fred:
Yes. A mix between strange facts, mental intrusion and human energy.
Who do you aim at with the "bullets from your musicgun"?Dom:
None. We are peace and love:-D
Fred:
Do you really want some names?

What is your attitude towards life as you express it it "4Lif3"?Fred:
Well, look around you. Do you see something special? No? Are you sure?
When I was listening to your music for the first time, the atmosphere was quite disturbing and emotionally touching in a claustrophobic way, esp. the first song "None". What are the influences you are subjected to that you come up with that kind lyrics?Dom:
As I said before, the music and the lyrics should explore the dark side of the life. All the bad things arriving in a life.
Fred:
"None" is a good test and a bad taste. If you survive, then you can go further and spit as strong as possible...
There are some cooperations with other musicians that have been incorporate in the album. How did you get hold of the bands and why did you decide to put their songs onto your release?Dom:
All these people are friends of us, and. We enjoy sharing our album with them, like sharing a good bottle of wine or a good meal.
Fred:
It's an honour having these persons on the project. One more time: Many thanks!
Will you continue to release your albums in such a "hybrid-like" manner or have these collaborations bin unique?Dom:
We'll see, but if our friends would like to work with us, we'll do it again.
Fred:
Everybody is welcoming! And you, Leo, are you interested?
What are your plans after the release? Will you bring the material onto stage? If yes, where can we experience K-Bereit live then?Dom:
Yes. K-Bereit is a live band before all. We began the live in 2004 and the album released only in 2009. We did about 10 gigs since 2004. Each gig is different. New setlist, new sounds, new accessories. We can't disunite Music and Visual.
Fred:
Each gig is a fantastic experience...
If yes: What can we expect from your live-shows? Do you have any additional musicians supporting you on stage?Dom:
We love to have friends singing with us... And like the album, everybody is welcoming!
Fred:
Leo? Not interested? ;-)
What do you think as a pioneer of EBM-scene about the new flood of so-called "old-school EBM-bands"?Dom:
If audience and bands have fun, it is good. The most mportant is having fun when you play.
I would like France having a scene and an audience like Germany or scandinavian countries. Yes I know, i'm dreaming:-D
Fred:
Is "old scool EBM music" just a kick-and-snare sequenceplus the same bass loop during 5 mn? And a dressed-in-black-with-sunglasses singer shouting as strong as possible? Really? Oh my God! No thanks... Not for me...
What do you think is the purpose you serve as a musician for mankind and for the scene?Fred:
We ever will fight with our weapons for good causes. For the mankind, if it needs us, it can send us a mail and we'see what we can do...
What means success for K-Bereit?Dom:
People have fun with our music, dancing on it. That's all. We don't wait for "success". We don't want to be rich or star. We just want to play and make people happy.
Fred:
Our only goal is seeing sweat splashing the dancefloor.
Thanks you Dominique, for taking your time to answer our questions. At the end I use to ask the band about their credo of life or the one sentence, that would sum up the bands core??Dom:
Thanks a lot Leo for the interview. Thanks for your interest. This is a real honour each time someone likes and supports K-Bereit.
HAVE FUN, LIFE IS SHORT ;-)
Newest comments: