Interview with KiloWatts & Vanek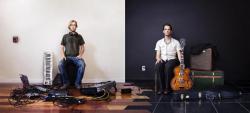 Reads: 3287 times
Hello Jamie, Hello Peter. Thanks for taking some time to answer a few questions about KiloWatts & Vanek (K&V) and your first album "Focus And Flow"K&V:
It's our pleasure.
Please introduce yourself first.K&V:
I'm Peter Vanek (real name Peter van Ewijk, which no English speaking person can ever pronunciate correctly), I'm 32 year old, live in Belgium and I love to play all kinds of instruments including the vocal chords. I consider writing honest, meaningful texts that offer food for thought as one of my major goals in life.
I'm Jamie Watts, 29, Philadelphia, PA, after spending the majority of my life in Texas. I'm addicted to electronic sounds and entraining the human ears to hear and interact with smaller and smaller nuances of sonic environments.
How did you get to know each other?K&V:
We met through the internet actually. We both regularly visited the forum and the messageboards of an internet community that was some sort of safe haven for people who liked electronic music.
And how did the project KiloWatts & Vanek come into life then?K&V:
We did one song together, mainly as an experiment, because we recognized a lot of common atmosphere in our own music. That song, quickly became immensely popular among the in crowd of the electronic music scene we frequented. That one song led to another and the rest is history.
You met each other in person much later at a concert in germany. Please describe the first meeting.K&V:
Since we had been communicating by way of messageboards, chatrooms and e-mail, we already knew quite a bit of one another. And the process of making music together is kind of like sharing a soul, so the minute we met face to face and drank our first beer together, it felt as we had known each other for years.
What does the word "Kilo" in your name stand for?K&V:
Well, 'kilo' is a prefix, meaning 'a thousand'. My last name is Watts. This nickname was given to me at a young age when my hair was so fine that it would stand straight up. It looked like I had just stuck my finger in an electrical socket, so I was given the nickname 'kilowatts'.
Tell us about your work as musician before KiloWatts & VanekK&V:
I was only in the beginning stages of making electronic music before I began collaborating with Peter. I knew what kinds of sounds I was going for though, and working with Peter helped bring out sounds I wanted to hear. Before all this, I spent a lot of time playing with dos-based trackers and releasing the music through the 'demo-scene'.
You two live very far away from each other (USA / Belgium). How can you manage the teamwork over such a distance?K&V:
It's basically the same as other bands working together, only you need to imagine a delay-time of twelve hours before we got any feedback from the other side. This stretches the working-period immensely, but it also gave us the opportunity to really let the music affect us, getting synchronized with the creative impulses of the other and then come up with the appropriate sonic answer. We couldn't have done all that without the help of the internet and file-sharing applications, though.
Was that the reason why the production of "Focus And Flow" took 4 years?K&V:
Yes. That and the reason we were very particular about the atmosphere we wanted to create with this album. Everything has been put together, stripped, perfected and put together again to create what we feel is the perfect musical experience.
You firstly published the album at your website. How did it go on then?K&V:
We really just wanted to share our effort with a few people and get some feedback. Luckily for us, Stefan Herwig heard our songs and fell in love with them, which eventually led to us land deals with Motor digital, for digital distribution and Dependent, for the distribution of physical cd's. This is yet another beauty of the internet. We were able to get our music into the right ears and hands by putting it online ourselves.
What does "Focus And Flow" stands for?K&V:
It tells you to stop and concentrate on all that is around you, all the movement, all the beauty and all the life, and in that silent moment you can just let go and float upon all of that. It's what we did. We stopped, looked around and turned what we saw and felt, what we focussed on into songs, little sonic treasures on which the listener can flow.
What subjects does the album discuss?
K&V:
It covers a lot: love, hope, death, beauty, hatred, pain, loss, thoughts and dreams. It's your basic what-does-it-all-mean-cd, but this time all the topics are approached from two different angles: the electronic and the organic, merging beautifully into one
Shall we see the album as an overall idea or every song for itself?K&V:
Both. Each song can stand on its own, but the cd is definitely an experience in its totality. All the songs are infused with a notion of focus and flow.
You prove that electronic and acoustic music can truly be merged together in perfect harmony. Was it your intention to show that this is possible?K&V:
No, not at all. We did feel that we were traversing a common universe with our music, but the fact that it mixes so well, was a surprise for us too. The songs are almost like conversations between the electronic and the acoustic. They stand together, side by side, telling the same story in different tongues.
On the album you play around a lot with sounds. Do you know in advance what the whole song will sound like or is it a spontaneous experiment during the production?
K&V:
We start out with basic chord progressions, a beat, a melody or fragments of texts. Whatever happens after is spontaneous, like a journey that we are both on, without really knowing where we are heading. There's a bit of discussion about the format, but the interesting stuff happens halfway through the process. Combray, for instance, went through many iterations before it ended up where it is now. It grew from a rather quaint tune into a monstrous epic experience.
Is there a song with a special meaning for you?K&V:
Combray, because it is inspired by Proust; Odyssey because it refers to Greek mythology; Sudden flow because of its hints to jazz and Unravel because it "sings the heart broken".
How would you describe your kind of music?K&V:
Some call it glitchpop, others say folktronica, you might say it is singer-songwriter electrix or even just call it pop, or better lappop. To label is to delineate and we'd like to think that we are about crossing borders and not enforcing them.

How do you get the inspiration for your songwriting?
K&V:
Life, reality; the painful beauty of existing in world that doesn't answer our most important questions. The songwriting reflects what we do to survive this not knowing. We dream up solutions in the form of religions and philosophies and try to make them real by pretending to actually live and believe in them.
Do you plan any live shows soon?K&V:
We hope to get something going! We would definitely be interested in touring Europe and the States and gather some more inspiration.
What can we expect in the future of KiloWatts & Vanek?K&V:
Hard to say. We are so busy living in the moment, the future hasn't gotten our complete attention yet.
Newest comments: