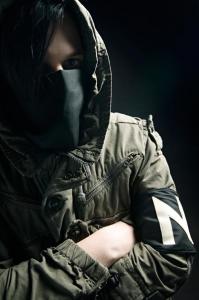 Reads: 5394 times
Artist:
Galleries:
CDs catalogue:
Last topics on forum:
Lucy had 5 minutes with NACHTMAHR and asked him about his upcoming ep and about his futureplans....


Hello Thomas, a year has passed by again. Did you have a good start in 2010?
TR: 2009 was a really exciting year for me, especially due to the success of Nachtmahr and the many concerts we played. I am full of energy for the new year now.
And how about good intentions for 2010?
TR: I think ist bullshit to have good intentions just at the end of the year. Man ought to shape his character and mind continuously and improve – and not only think about it when tradition made him to do so.
As expected, the NACHTMAHR machinery is always active in working on new output. Now there will be a new EP named "Mädchen in Uniform" ("Girls in Uniforms"). What does the title stand for?
TR: Guess this is selfexplaining. It deals with a tabu of society: that uniforms are not only a sign of authority, but also have a strong sexual appeal.
I remember a movie with Romy Schneider bearing the same title. Are there any parallels?

TR: I have found the movie afterwards during internet search, but thematically it is quite close to each other. In the movie the authority of the teacher in the college become an aphrodisiakum for the young girl.
There has been a lot of promotion and some sort of contest before the release of the EP. All girls from around the world have been invited to submit their pictures to become a "Mädchen in Uniform". How many girls did join the NACHTMAHR guard?
TR: Many girls from all over the world have applied, sometimes even with picutres of excellent quality. Those and the shooting with the winners are to be seen in the new issue of ORKUS magazine.
And what happens to the girls exactly in the future?
TR: We have selected three winners and the first will have a professional shooting with our photographer Achim Webel (www.nightshadow.de). It will be printed in ORKUS then. Fame and honour are thus guaranteed. Number 2 and 3 will receive give-away presents.
Ok, time is running, let's get back to the EP. "Mädchen in Uniform" contains 13 tracks, which is a lot for an EP. What meaning does the number 13 has in that context?

TR: None.
Besides the title track you have crammed the EP with a lot of other songs and remixes. I will now randomly pick three and ask you for a short summary and spontanous thoughts about them, ok?
"Mädchen in Uniform":
TR: As previously said – a very necessary monument for the sexual lure of uniforms, done is excellent old-school EBM style.
"El Chupacabra":
TR: We dedicated this with a smile to the south- and midamerican phantastic creature that strolles around in that countries. The whole theme is packed into a noisy industrial/techno-track with unusual but well-fitting influences...
"Mörder":
TR: A psychotic track that has already be featured on "Alle Lust will Ewigkeit". With his dramatic build-up is simply follows the maniac of the protagonists.
Many thanks for the interesting answers. We wish you much success for the new EP!
Other articles:
Newest comments: